ESPAÑOL
Inauguración de la Arty Love Gallery en Barcelona
La escena artística de Barcelona está a punto de enriquecerse con la inauguración de una nueva galería de arte callejero situada en el Born, en el número 5 de la calle del Bonaire.
La nueva Arty Love Gallery abrirá sus puertas el 30 de junio con una exposición temporal de los artistas Julien Soone y Dire 132. Estos dos talentosos artistas callejeros franceses expondrán sus últimas creaciones, que seguro conquistarán a los amantes del arte por su estilo y tecnicidad inimitables.
Julien Soone, artista cuyo talento y creatividad gozan de amplio reconocimiento en el mundo del arte, es conocido por sus obras atrevidas y expresivas. Además de sus proyectos en espacios públicos, también expone en galerías y participa en proyectos artísticos colaborativos. Su obra ha sido ampliamente expuesta y reconocida internacionalmente en los ámbitos del grafiti, del diseño y de la moda. El artista sigue explorando nuevas técnicas y superando los límites del arte urbano.
Junto a Julien Soone para la exposición temporal Dire 132, miembro de Crew 132, es un grafitero destacado con su estilo bucólico y tatuado. Utilizando botes de pintura en spray, pinceles y lápices, crea obras cautivadoras que expresan la armonía entre el hombre, la naturaleza y el arte. Su talento y su contribución a la cultura del grafiti le han convertido en una referencia en el mundo del arte callejero francés.

Una galería francesa
Arty Love Gallery invita a los aficionados del arte urbano a descubrir cautivadoras creaciones francesas y a celebrar la diversidad artística. Los artistas de Arty Love Gallery son reconocidos por su contribución a la escena del arte callejero francés, y traen sus propios estilos y visiones artísticas a esta nueva sede.
La galería ofrece un espacio único a artistas franceses poco presentes en Barcelona, y exhibe el talento de la artista rusa Sorry-im.bat, conocida por su enfoque innovador en la cerámica, que integra el contexto urbano y elementos de la cultura pop.

Una exposición colectiva permanente
Coincidiendo con la apertura, la galería inaugurará una exposición colectiva permanente con obras de Maxime Piccoli, Nicolas Michot, El'bud, Jhano y Mika Rambar. Todos franceses, estos artistas ofrecen una perspectiva singular del arte urbano, con una diversidad de obras que sin duda sorprenderá a los visitantes.
La galería expondrá una variedad de medios artísticos, desde pinturas sobre lienzo hasta esculturas y cerámicas. Las obras expuestas reflejarán la creatividad y la diversidad del talento artístico francés que se puede descubrir en Barcelona.
Además de las obras expuestas, la galería tiene previsto organizar actos a lo largo del año. Se ofrecerán actuaciones en directo, encuentros con artistas y talleres artísticos, que proporcionarán una experiencia inmersiva e interactiva a los visitantes.
La inauguración de la nueva galería de arte urbano de Barcelona promete ser una cita ineludible para los amantes del arte y los curiosos. No te pierdas esta oportunidad única de descubrir y apreciar el arte urbano en todo su esplendor.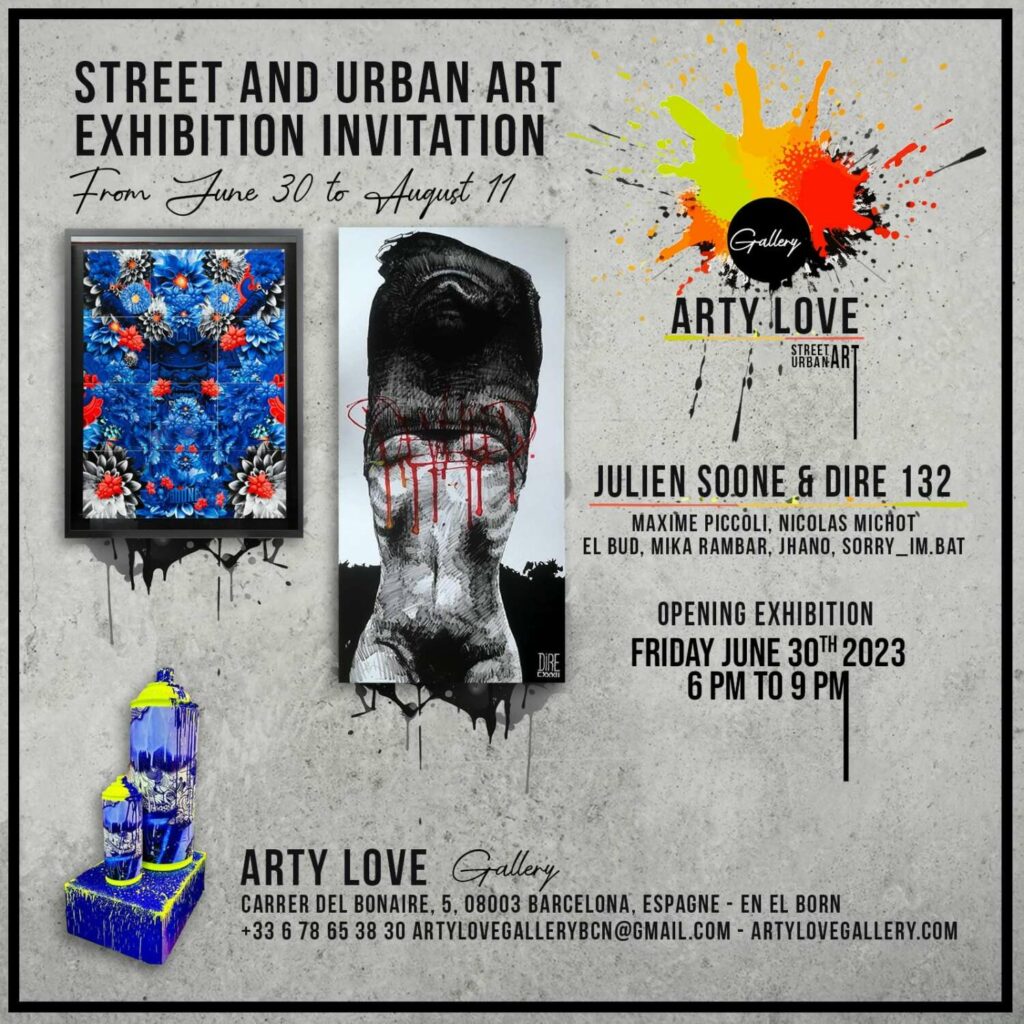 ENGLISH
Opening of Arty Love Gallery in Barcelona
Barcelona's art scene is about to be enhanced with the inauguration of a new street art gallery nestled in the Born, at number 5, Calle del Bonaire.
The new Arty Love gallery will open its doors on June 30 with the opening of a temporary exhibition by artists Julien Soone and Dire 132. These two talented French street artists will be presenting their latest creations, bound to seduce art lovers with their inimitable style and technicality.
Julien Soone, an artist widely recognized for his talent and creativity in the art world, is known for his audacious and expressive works. In addition to his projects in public spaces, he also displays in galleries and participates in collaborative art projects. His work has been exhibited and recognized internationally in the graffiti, design and fashion fields. The artist continues to explore new techniques and push the boundaries of urban art.
Together with Julien Soone for this temporary exhibition, Dire 132, a member of Crew 132, is a prominent graffiti artist with a bucolic, tattooed style. Using paint cans, brushes and pencils, he creates captivating works that express the harmony between man, nature and art. His talent and contribution to graffiti culture set him as a benchmark in the world of French street art.

A French gallery
Arty Love Gallery invites urban art fans to discover captivating French creations and celebrate artistic diversity. Arty Love Gallery's artists are recognized for their contribution to the French street art scene, and bring their own artistic styles and visions to this new venue.
The gallery offers a unique space to French artists with a limited presence in Barcelona, and highlights the talent of Russian artist Sorry-im.bat, known for her innovative approach to ceramics, which she integrates with the urban context and elements of pop culture.

A permanent group exhibition
To mark the opening, the gallery is inaugurating a permanent group show featuring works by Maxime Piccoli, Nicolas Michot, El'bud, Jhano and Mika Rambar. All French, these artists bring a singular vision of urban art and a diversity of works that will surprise all visitors.
The gallery will present a variety of artistic supports, from canvas paintings to sculptures and ceramics. The works on display will testify the creativity and diversity of French artistic talent to be discovered in Barcelona.
In addition to the artworks on display, the gallery also plans to organize events throughout the year. Live performances, meetings with artists and artistic workshops will be offered, providing an immersive and interactive experience for visitors.
The opening of Barcelona's new street art gallery promises to be a must-see event for art lovers and the curious. Don't miss this unique opportunity to discover and appreciate urban art in all its splendor.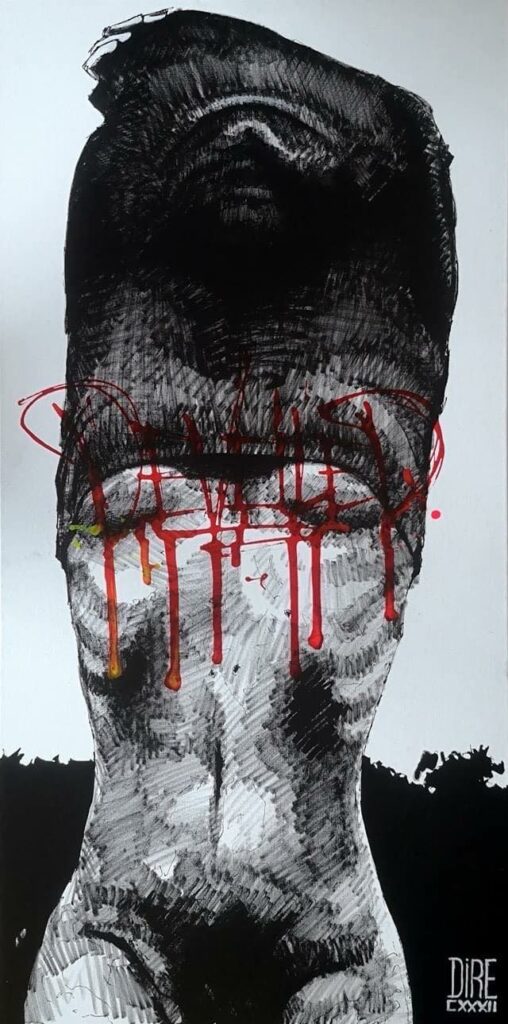 FRANCAIS
Vernissage et inauguration de la Arty Love Gallery à Barcelone
La scène artistique de Barcelone est sur le point de s'enrichir avec l'inauguration d'une nouvelle galerie street art nichée dans le Born, au numéro 5 de la rue del Bonaire.
La nouvelle galerie Arty Love ouvrira ses portes le 30 juin avec le vernissage de l'exposition temporaire des artistes Julien Soone et Dire 132. Ces deux talentueux street artistes français présenteront leurs dernières créations, qui ne manqueront pas de séduire les amateurs d'art par leur style inimitable et leur technicité.
Julien Soone, artiste dont le talent et la créativité sont largement reconnus dans le milieu artistique est connu pour ses œuvres audacieuses et expressives. En plus de ses projets dans l'espace public, il expose également dans des galeries et participe à des projets artistiques collaboratifs. Son travail a été largement exposé et reconnu internationalement aussi bien dans le milieu du graffiti que du design ou de la mode. L'artiste continue d'explorer de nouvelles techniques et de repousser les limites de l'art urbain.
Aux côtés de Julien Soone pour l'exposition temporaire Dire 132, membre du Crew 132, est un graffeur incontournable qui se distingue par son style bucolique et tatoué. À l'aide de bombes de peinture, de pinceaux et de crayons, il crée des œuvres captivantes qui expriment l'harmonie entre l'homme, la nature et l'art. Son talent et sa contribution à la culture du graffiti ont fait de lui une référence dans le monde du street art français.

Une galerie française
La Arty Love Gallery offre aux amateurs d'art urbain une occasion de découvrir des créations artistiques françaises captivantes et de célébrer la diversité artistique. Les artistes de la Arty Love Gallery sont reconnus pour leur contribution à la scène du street art en France et apportent leur propre style et leurs visions artistique à ce nouveau lieu.
La galerie propose un espace unique aux artistes français peu présents à Barcelone et met en avant le talent de l'artiste russe Sorry-im.bat, connue pour son approche novatrice de la céramique, qu'elle intègre au contexte urbain et aux éléments de la culture pop.

Une exposition collective permanente
À l'occasion du vernissage, la galerie inaugurera une exposition collective permanente avec des œuvres de Maxime Piccoli, Nicolas Michot, El'bud, Jhano, et Mika Rambar. Tous français, ces artistes proposent une perspective singulière en matière d'art urbain, offrant une diversité d'œuvres qui ne manquera pas de surprendre les visiteurs.
La galerie présentera une variété de supports artistiques, allant des peintures sur toile jusqu'aux sculptures en passant par les céramiques. Les œuvres exposées témoigneront de la créativité et de la diversité des talents artistiques français à découvrir à Barcelone.
Outre les œuvres exposées, la galerie prévoit également d'organiser des événements tout au long de l'année. Des performances live, des rencontres avec les artistes et des ateliers artistiques seront proposés, offrant ainsi une expérience immersive et interactive pour les visiteurs.
Le vernissage de la nouvelle galerie de street art à Barcelone promet d'être un événement incontournable pour les amateurs d'art et les curieux. Ne manquez pas cette opportunité unique de découvrir et d'apprécier l'art urbain dans toute sa splendeur.