The latest street art news, artist interviews, gallery exhibitions and photos from the Barcelona urban art scene.
Street Art Barcelona is a collaborative platform created to support & promote the Barcelona art scene.
New live painting by Sabek in Guzzo
El mural central del Guzzo vuelve a mutar, esta vez de la mano de
Sabek
! Nos encontramos como de costumbre, un lunes a partir de las 18Hrs para ver la creación del mural en directo…
Sabek (Madrid, 1985) es un artista español, que inicia y lleva a cabo parte de su carrera en Madrid. Comienza su trabajo interviniendo en las calles y lugares abandonados alrededor de la capital donde desarrolla su estilo. Su estilo inconfundible se reconoce por la representación de formas y colores que aluden al origen natural, especialmente en aquellos animales nobles y poderosos que infunden una fuerte sensación de respeto. Es por ello que su obra plantea una reflexión en torno al ser humano y su relación con la naturaleza.
En monumentales muros alrededor del mundo (EE.UU., Francia, España, Malasia, Rusia, Nueva Zelanda) SABEK muestra las huellas que hacen su estilo tan reconocible. Su trabajo se puede encontrar en galerías de España, Francia y Estados Unidos.
Nos vemos el lunes 8 de Noviembre a partir de las 18h00!
Evento comisariado por Street Art Barcelona.
Entrada Libre.
Guzzo Club
Plaça Comercial 10
Barcelona
Posted in
Blog
,
Sabek
and tagged
art
,
Barcelona
,
exhibition
,
exposicion
,
graffiti
,
guzzo
,
live painting
,
montana
,
montana gallery barcelona
,
mural
,
muralismo
,
murals
,
sabek
,
street art
,
street art barcelona
,
street art bcn
,
streetart
,
streetartbcn
,
Urban Art
.
"String Quintet" – Massive mural by Juanjo Surace in Lisboa for MuroLX2021
This summer we've been participating in the organisation of the new large scale mural by the one and only Juanjo Surace, painted in Lisboa for #MuroLX2021, an initiative by Galeria de arte urbana. Called "String quintet", this work speaks about art as a place of encounter, dialogue and understanding between cultures. In the composition we see five animals from five different continents with traditional instruments of each region, immersed in a musical improvisation symbolizing the possible union of cultures through art. Congratulations to Juanjo for giving such beautiful colors and positive message in this district of Lisboa.
Photos by José Vicente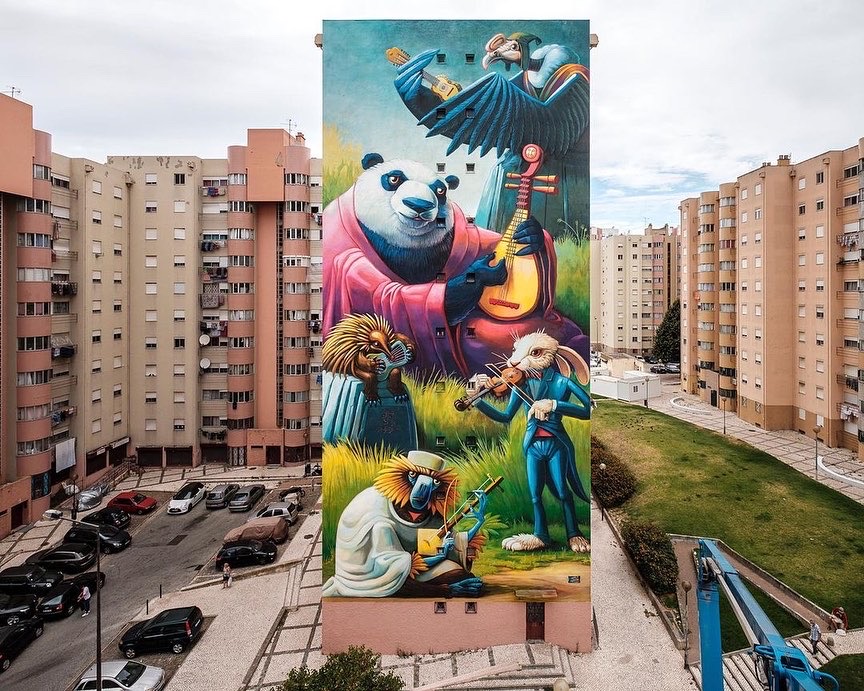 Posted in
Featured Artists
,
Juanjo Surace
,
Library
and tagged
art
,
Barcelona
,
exposicion
,
graffiti
,
juanjo surace
,
mural
,
muralismo
,
street art
,
street art barcelona
,
street art bcn
,
streetart
,
Urban Art
.