The latest street art news, artist interviews, gallery exhibitions and photos from the Barcelona urban art scene.
Street Art Barcelona is a collaborative platform created to support & promote the Barcelona art scene.
Article by David Davis
Barcelona is well renowned in the street art community as a mecca for the practice. For this project, I decided to dive into this subculture and spend time with several artists currently working in the largest city on the Mediterranean coast of Spain.
Whenever someone mentions Barcelona, people's minds will often wander to picture crowded beaches that stretch as far as the eye can see. A buzzing metropolis of bars, clubs and restaurants that cater to the 27 million tourists the city attracts each year. Or, most notably, one of the many structures designed by the late architect Antoni Gaudí. Buildings like the Casa Vicens, the Casa Battló, and of course, the famous Sagrada Familia, which after 133 years of construction, is now entering its home stretch towards completion.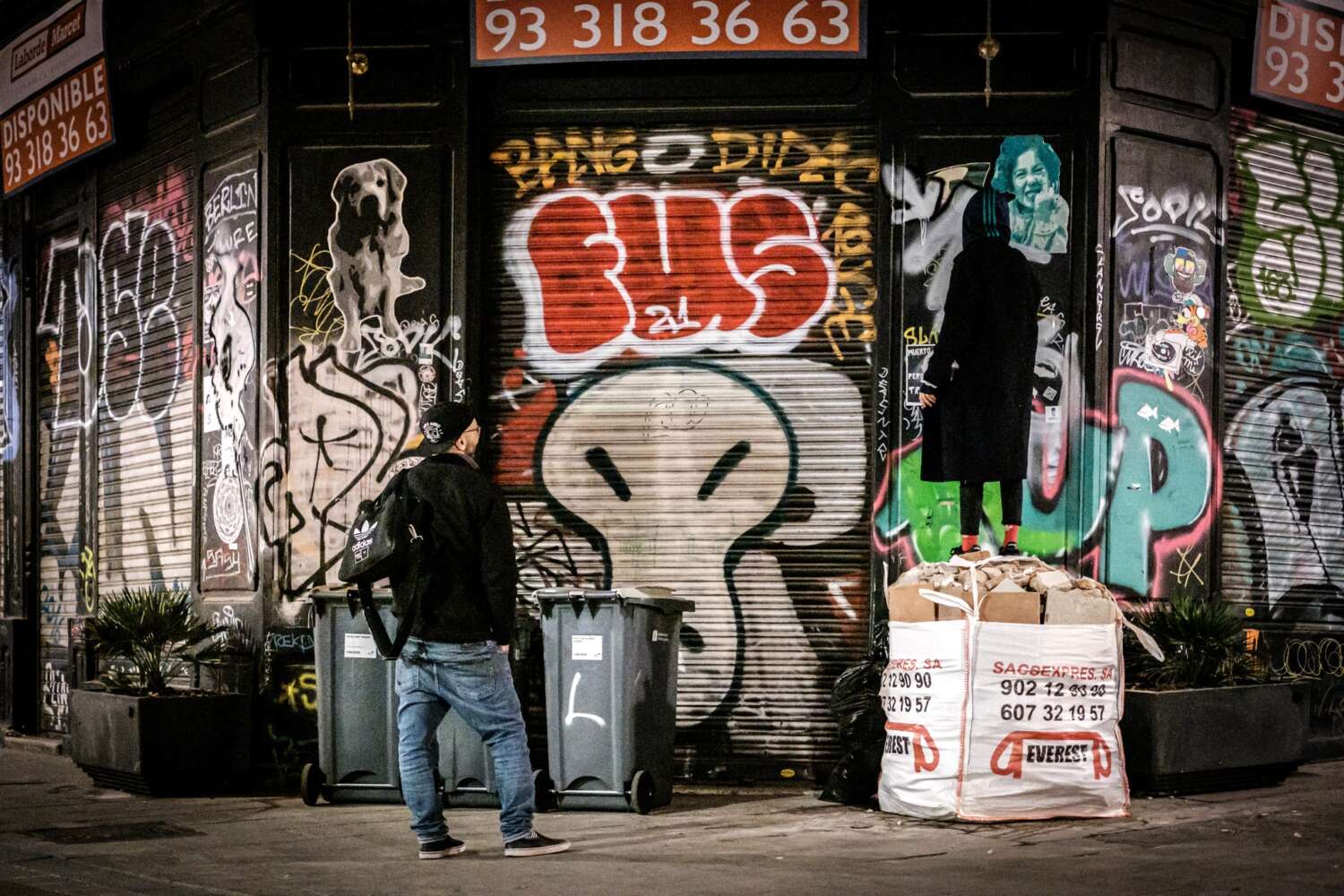 But besides the picture-perfect brochure images advertised to attract its outstanding volume of visitors or the countless highly polished Instagram photographs they publish to the world wide web each year. Barcelona is also home to another unique and somewhat underrepresented aesthetic. Street art.
As soon as you exit the Barcelona Sants Train Station, Barcelona's largest train station and starting point for most tourists, you will find yourself thrust into its vibrant world of the colourful, creative, and often crass scene of artistic expression. I would be comfortable to place a high wager that one would find it impossible to find a single door, shutter, electricity box or garage entrance not sprayed, stencilled, pasted, or painted in some form. If the surface is smooth and at ground level, it is guaranteed to be used by an artist as a crude, ad hoc canvas for their artful endeavours.
While most of the graffiti in Barcelona is illegal, the local council does provide a few locations for artists to paint without fear of repercussion from the law. The most popular of these, certainly the largest, is Jardines de las Tres Chimeneas. A sizable urban space that also caters to skaters, ping pong players, and those looking to shoot some hoops. Hoping to meet some local artists for this photo essay, I decided to visit the location.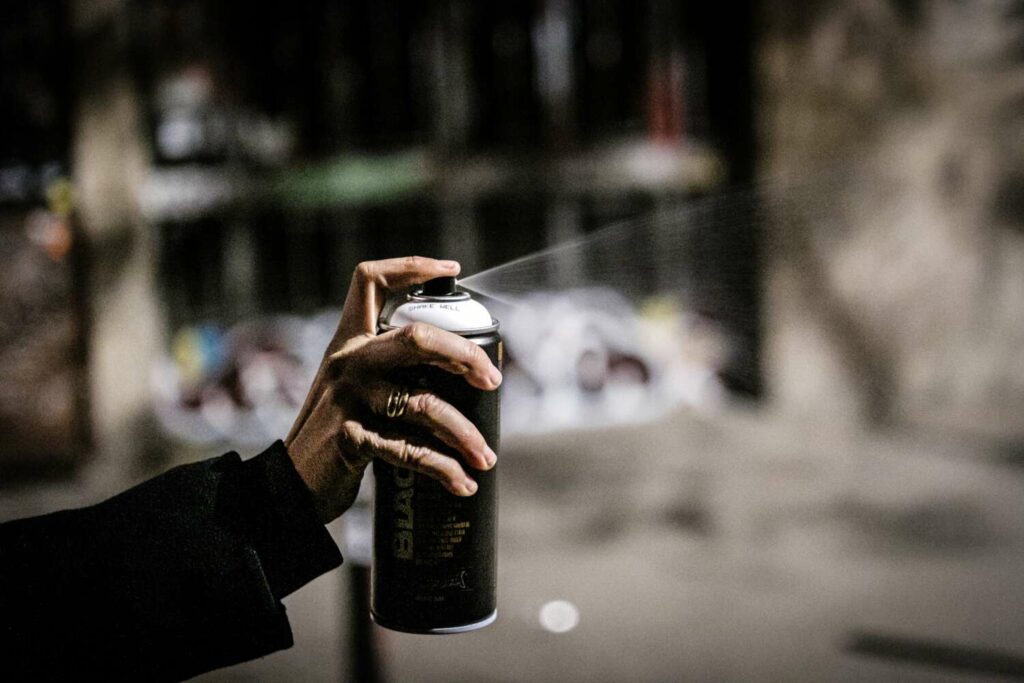 After spending some time there documenting the busy walls, I noticed individuals without skateboards recceing the location. And sure enough, after they had identified a suitable position, the spray cans began to emerge from the tatty carrier bags and paint encrusted rucksacks they had brought with them.
After approaching these individuals with my questionable Spanish, it became evident that they were not local. The first two artists I spoke with were from the UK, and the third was Canadian. Each one had come to Barcelona to paint and skate in the city and were only here for a short time. And while their work was impressive, and it was interesting to hear about the lengths these artists were willing to travel to contribute to the scene, they were not going to grant me access into the inner circle. It was time to take a different approach.
Where should I go to meet a group of people that otherwise prefer to remain elusive? I thought to myself. Spending time waiting at walls would be a non-proactive use of my time. I could be stuck waiting for days before I met a local. The next step was to target their suppliers at one of the many paint stores.
Armed with my camera and tripod, I began to tick off each shop on the map, hoping to exchange shots of their stores for information on artists that may be willing to be documented for the project. After several failed attempts, I was given the contact details for the cultural head of Montana paints after visiting the Montana store in Gràcia, close to La Sagrada Família.
Following a short volley of emails and telephone calls explaining the project, the number of Antoine, the founder of street art Barcelona, was handed to me. An organisation founded (X) years ago to help secure locations for street artists to showcase their work in several legal sites on a rotating bi-monthly basis.
Antoine spoke of a mural project planned for the proceeding week and expressed his interest that I attend to document the event. He also graciously passed me the information of the two artists collaborating on the mural. Two unquestionably talented creatives that go by the street handles Twee Muizen and Slomo.
Perfect, I had found my route into the scene. The next step was to set up dates with these artists to find out a little more about them, their work and their views on the street art landscape as it presently stands in Barcelona before the project began. After contacting the two, it was unfortunate to hear that Slomo had fallen sick and would not meet before the mural commenced.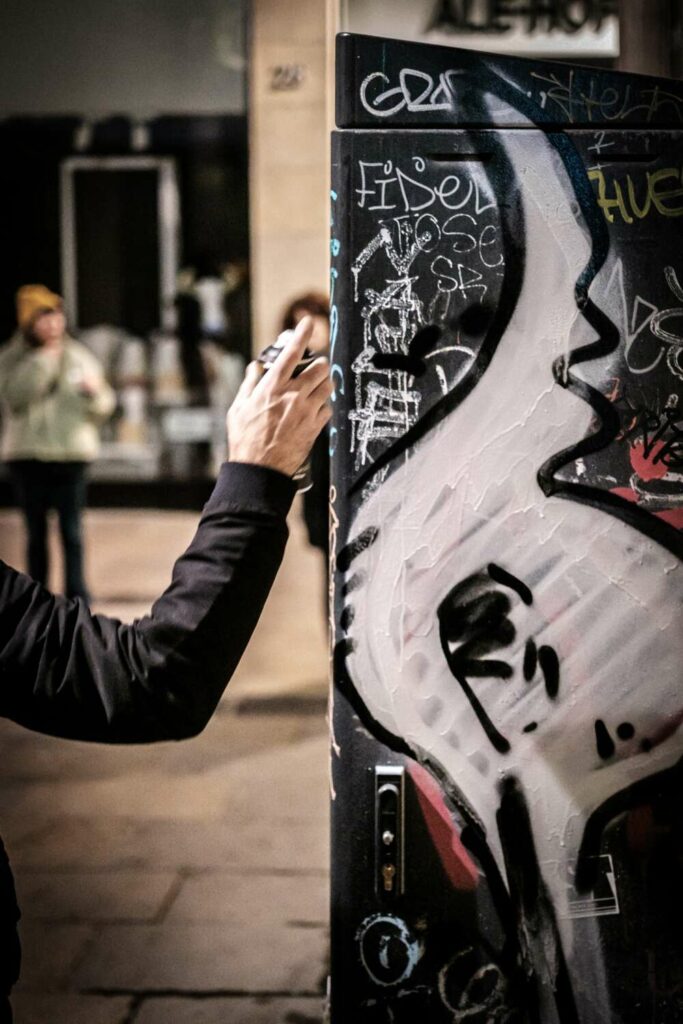 Fortunately, Twee Muizen (Denis) was in good health, so I arranged a visit to his studio/gallery in the heart of the gothic quarter that dates back over 2,000 years.
After a short while navigating the undulating and somewhat claustrophobic streets of the fascinating neighbourhood, I arrived at the studio to find Denis and his girlfriend, Christina, another talented creative, waiting to welcome me warmly into their inspirational gallery/studio. One, they tell me they had renovated themselves from a once dilapidated condition.
After exchanging a few niceties, we sat down in the rear studio section of their gallery to discuss their work and their views on what it means to be an artist in Barcelona in 2022.
Both Denis and Christina are originally from the Spanish countryside, the organic roots clearly evident in the forms of their work, and had travelled to study fine art (Denis) and Textiles (Christina) in Amsterdam, the Netherlands, for their undergraduate degrees. Here, they would meet each other for the first time and begin working on collaborative projects, showcasing their work in several museums and exhibitions for some years before deciding to move back to Spain and Barcelona. A decision based on the financial benefits of being based in a place renowned as a cultural capital with a torrent of foreign traffic. One that worked well for them both as they explain they now supply clients worldwide.
But besides their relative success as artists (they can support themselves entirely from their art). The couple explained that it has not always been easy for them. In the start, they both had to work part-time jobs and had to juggle the perfection of their crafts around their other professional commitments. Furthermore, they both agreed how the Spanish fee system for freelancers makes it difficult for emerging artists to begin to support themselves with work deemed less economically valuable in the eyes of society. Both artists and lawyers pay the same to practice their professions.
When questioned about their views on street art, the most problematic barrier the two agreed on was that since 2005, when the local council decided to clean the inner city in a bid to make it more appealing to tourists, things had become far more challenging for real projects such as murals to be painted on the buildings here. An unfortunate case considering the level of ready talent available to breathe life into the cities otherwise dreary and often dilapidated walls.
Denis continued that before the clean-up, the place was somewhat of a wild west for street art, with even more of the city painted than today. And while there are still several murals within the inner city, the current rules state that they must not be visible from the main streets. Furthermore, they must also conform to a Pantone set by the architects responsible for overlooking the cities development.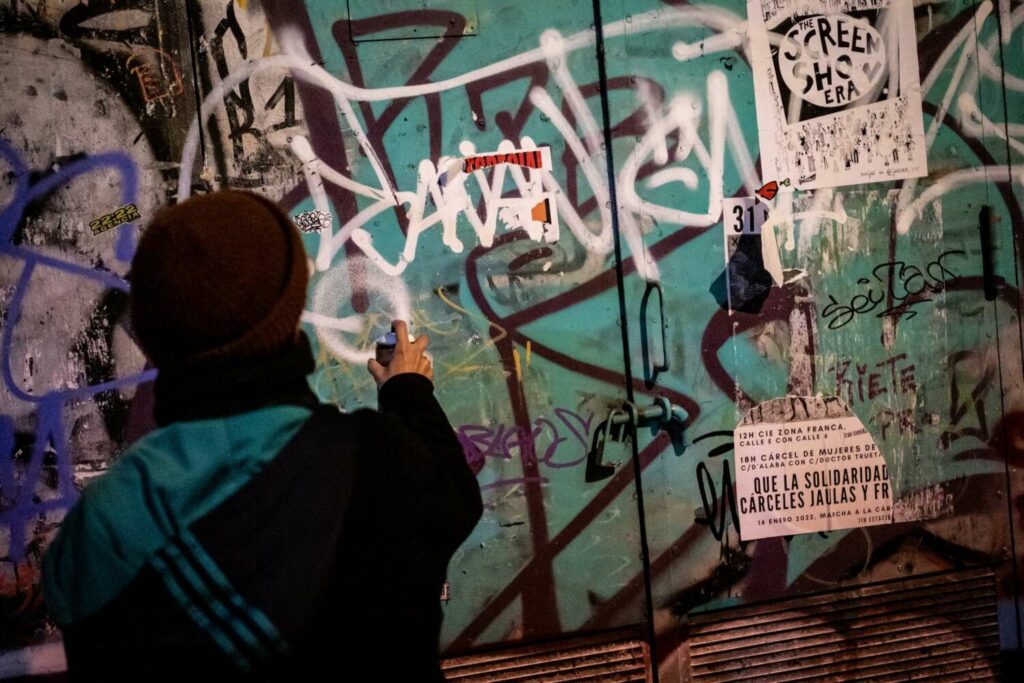 Besides these and other barriers they face, they explained how there is support for artists, Such as Street Art Barcelona and another named B Murals, an organisation that also fights for urban real estate and provides exhibition space for artists too.
After our conversation, I thanked them for their time and expressed my excitement to document the mural project that would commence in the coming week.
On Tuesday, I arrived at the location at (X) just across the road from Jardines de las Tres Chimeneas to find Denis and Ricky (Slomo), sketching out the rough lines of the mural. It was great to see Denis once more and meet Ricky for the first time.
Slomo, his preferred name, is originally from Venueszala and has been a resident in Barcelona for the last (X) years. And even though he only started painting five years ago, he has already become a well-known figure in the city, being extremely active and demonstrating a unique style of hard lines with bold colours he creates with the help of masking tape, an approach that gives his work a unique style that contrasts sharply with the more fluid lettering and characters painted by other artists.
As the mural progressed, the few rough paint lines the artists had sketched slowly began to take a more complex form as they began blocking out and layering the mural. It was the first time I had witnessed this kind of artwork made, and I felt privileged to have the opportunity to document the process as a first-hand observer.
Two days into the project, during one of Antoine's free work windows. He passed by to check on the progress of the wall. During our talk, he mentioned that evening he would be going to a bar with more artists to watch a drag show of a performer being painted on a wall the following week, and I should join him to meet them. "Of course," I replied eagerly. The more creatives I can talk to, the better.
Later that evening, I met Antoine and the rest of the group at the mural location. The first of the artists I spoke to was named Nemo. A tagger that uses paint rollers with letters of her name to paint walls and pavements at small and large scales. The result looks like someone has driven a vehicle vertically up a building, leaving tyre imprints behind.
The second artist was Morky, an artist that has been primarily using black and white in the streets for decades. A period of time evident in the skill of his work. Both professional murals and graffiti alike. His tag is a burning matchstick and is one I had noticed extensively throughout my time documenting the street art in the city.
Another, we will call Amy, uses the written word to provoke thought and emotion in those that read her text in the street.
After our brief introductions, we began to the drag bar to catch the show. But not before stopping at one of the paint stores I had visited in the previous week to collect some supplies. I could tell that the night was going to be an interesting one.
After the show, one spoken in Spanish, meaning I couldn't fully appreciate it, we indeed took to the streets to contribute a hint of the artistic flavour the inner city is better known for, illegal graffiti.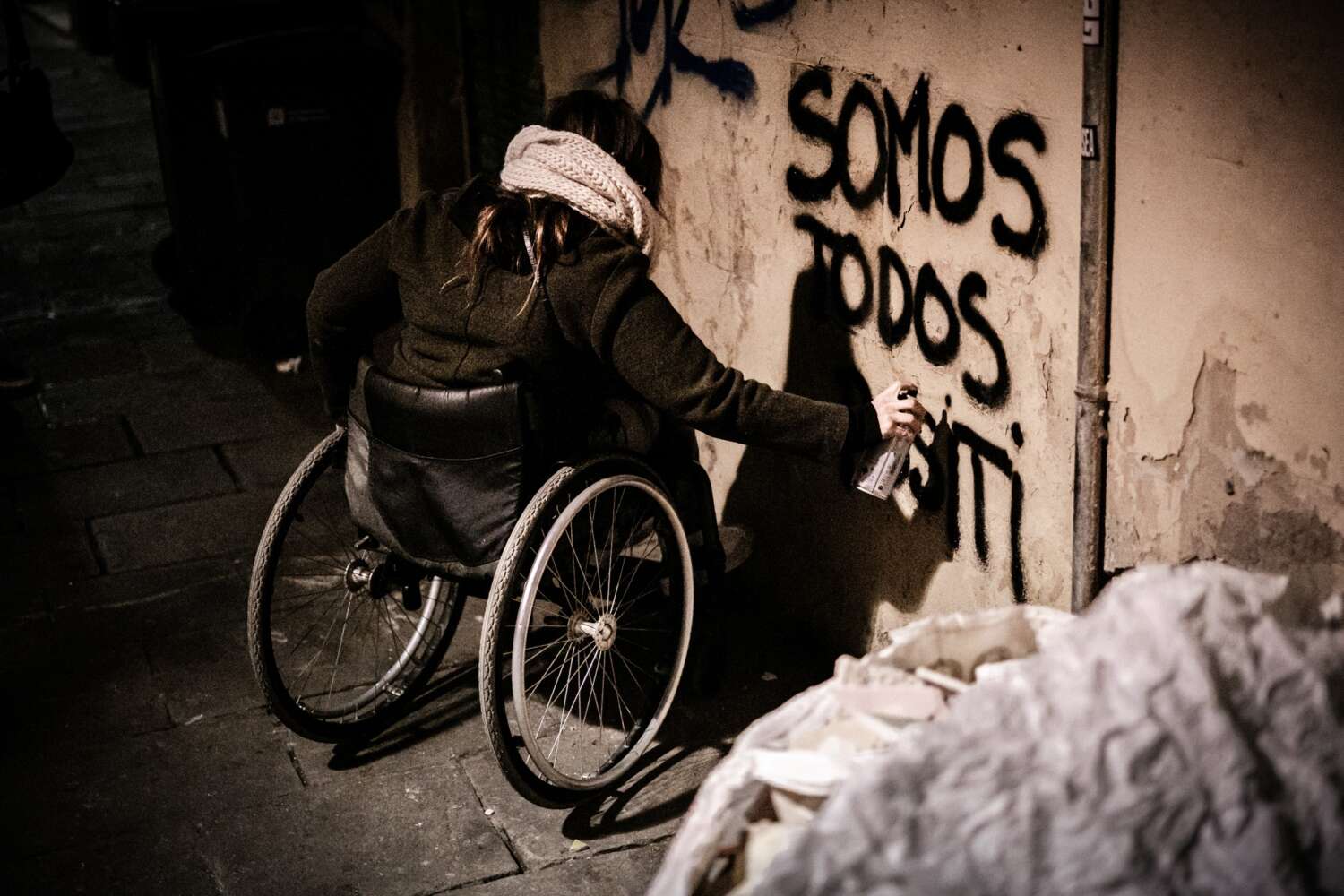 Barcelona is a city with a strong police presence. With countless officers patrolling its narrow alleyways in cars and on motorcycles. Sniffing out the drunkards and rowdy tourists like hawks circling the vermin of a cornfield. Eager to pay their wages with the handing out of fines for those unfortunate enough to be spotted while performing any unsavoury act, admits the racket and chaos of the inner metropolis.
There was a strong sense of danger permeating the air while I watched these taggers practice their profession, but this thrill of the chase, of getting caught by the vultures, was perhaps the most enjoyable part of the night. And we almost were caught at one point. While Morky had Nemo on his shoulders to paint a for sale sign above a shops shutter, sure enough, one of those birds of prey turned a corner just 100 meters away, with their blue lights illuminating the uneven orange walls, we knew it had us in its sights.
We broke like a pack of zebra, knowing the eyes of a predator were upon us. Fortunately, that 100 meters were enough distance between us and their warm ticket book to put our money towards another crate of beer for ourselves and not another's Christmas bonus. After this close call, we decided to call it a day and retraeated to the safety of Morkys studio to enjoy the rest of our night in peace to good music and company while wrapped in a warm alcoholic blanket.
The next day I returned to the mural to document the final day of Denise's and Ricky's project. There was little to do beyond filling in a few details, meaning the day had strong overtones of a relaxed nature. What these two had created in such a short space of time was truly outstanding. A shame, however, that it would only last for two short months. But such is the impermanent nature of street art, but the photographs taken will go on.
To celebrate the completion of the wall, and because it never truly winters in Spain, Slomo arranged a BBQ on the private rooftop of his terrace building located just 200 meters from Denis and Christians studio the following weekend. I was fortunate enough to receive an invite to the party and meet even more artists working here in Barcelona.
Watching these artists do their thing while eating good food with a beer in hand to the sun setting over a pastel Barcelonian skyline was the perfect way to wrap up this project and say goodbye to people that had not only been the subject of this photo essay but people that had become good friends. Cool dudes, I will return to visit soon.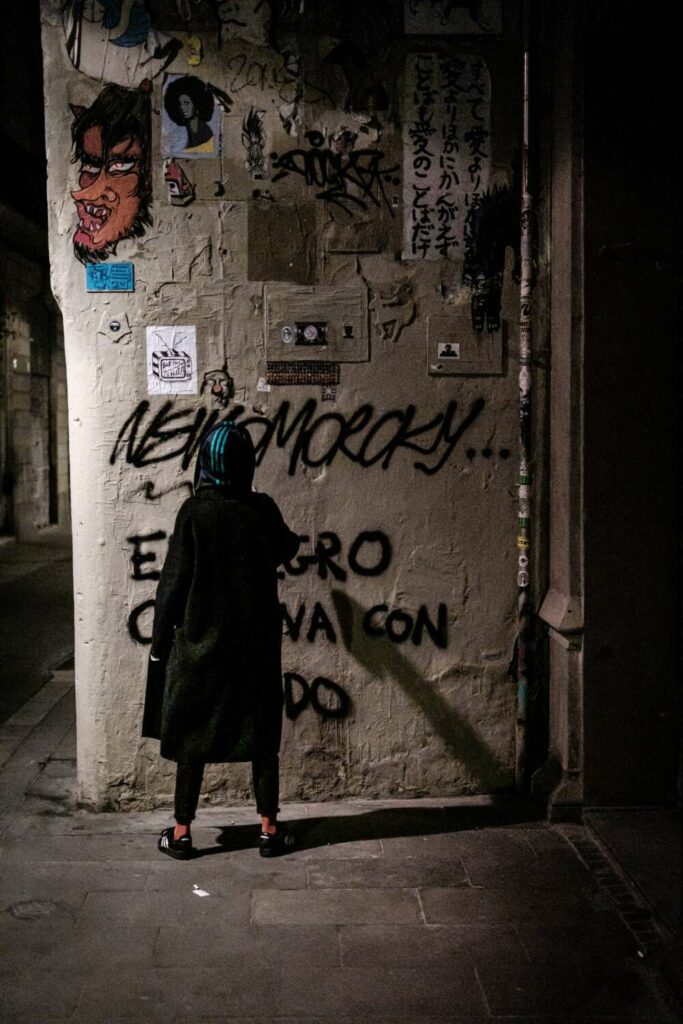 Posted in
Blog
and tagged
Barcelona
,
daviddavis
,
graffiti
,
muralismo
,
murals
,
nemo
,
street art
,
street art barcelona
,
street art bcn
,
streetart
,
streetartbcn
,
Urban Art
.
Live Painting Pro 176: Inmersión psicodélica en el Guzzo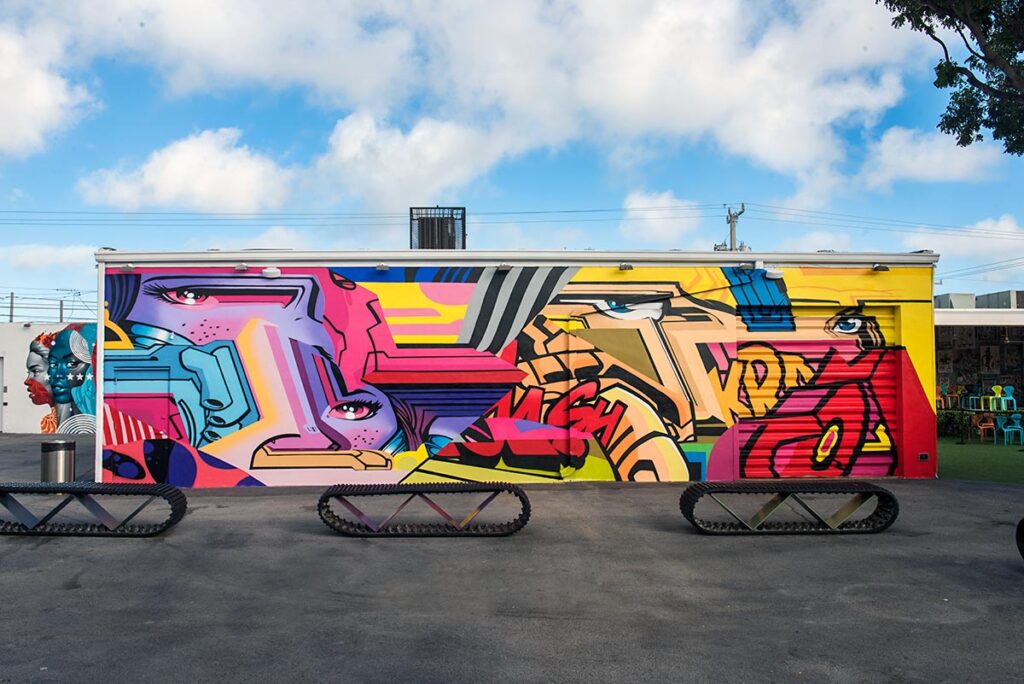 ES
Artista francés residente en Valencia (España), Pro 176 tiene sus raíces en la cultura hip-hop parisina. Activo desde hace unos treinta años, empezó como rapero en los años 90, inspirado por Mode 2 y Colt, el artista hizo sus primeros pasos en el mundo del grafiti. Inmerso en una vida suburbana, pasa el tiempo recorriendo túneles y metros con otros grafiteros en modo vándalo mientras difunde un arte libre aún nuevo en Francia.
El artista viajó a Estados Unidos en 1995 con Rez y conoció a estrellas del graffiti neoyorquino como Cope 2, Lady Pink y Bando. Un viaje memorable durante el cual eligió su nombre definitivo Pro 176, inspirado en el título de Jeru The Damaja: "Can't Stop the Prophet". Vivió momentos excepcionales con los Smith, se inspiró mucho en Vulcano y desarrolló su visión galáctica del grafiti impregnada del universo del cómic de Marvels. Desde entonces, Pro 176 no ha dejado de superar los límites del estilo mientras rompía los códigos del arte callejero.
Un recorrido lleno de acontecimientos durante el cual viaja mucho, deja sus sprays en Londres, inicia una gira con el rapero Rockin Squat hasta el encuentro decisivo con Seen en 2008, que le invita a formar parte de su equipo. Este golpe del destino le llevó a cambiar el micrófono por los pinceles y a iniciar una nueva vida en el taller, donde desarrolló su estilo abstracto en los cuadros. Los dos artistas volaron juntos a Valencia, donde el arte de Pro 176 dio un nuevo giro al desarrollar su faceta psicodélica distorsionando cómics. El artista define su estilo como "neocubismo".
Su estilo inigualable le ha hecho famoso y ha sido invitado a muchas galerías de arte en Europa, pero también en Miami durante el Basel, donde realizó un mural en el Wynwood Fest junto a Futura y Shepard Fairey. Hoy, Pro 176 conquista Asia, donde colabora con China, pero sigue abierto a pintar muros y fachadas. Street Art Barcelona aprovechó la ocasión para invitarle a realizar un live painting el 5 de octubre de 2022 durante el cual el artista sumergió la sala Guzzo en su mundo de distorsiones de colores. Una ardua tarea de más de 24 horas que el artista emprendió para dar nueva vida al lugar en un ambiente hip-hop con Houellebreak a los platos, ante la mirada atónita de un público entusiasta. Un momento raro y memorable compartido con un artista singular.
EN
French artist based in Valencia (Spain), Pro 176 has his roots in Parisian hip-hop culture. Active for about thirty years, he started as a rapper in the 90s, inspired by Mode 2 and Colt, the artist made his first steps in the world of graffiti. Immersed in a suburban life, he spends his time travelling through tunnels and subways with other graffiti artists in vandal mode while spreading a free art still new in France.
The artist travelled to the United States in 1995 with Rez and met New York graffiti stars such as Cope 2, Lady Pink and french Bando. A memorable journey during which he chose the definitive name of him Pro 176, inspired by the title of Jeru The Damaja: "Can't Stop the Prophet". He lived exceptional moments with the Smiths, was greatly inspired by Vulcano and developed his galactic vision of graffiti impregnated with the Marvel comics universe. Since then, Pro 176 has continued to push the boundaries of style while breaking the codes of street art.
An eventful journey during which he travels a lot, he leaves his sprays in London, he begins a tour with the rapper Rockin Squat until the decisive meeting with Seen in 2008, who invites him to be part of his team. This stroke of fate led him to change the microphone for brushes and start a new life in the workshop, where he developed his abstract style in paintings. The two artists flew together to Valencia, where Pro 176's art took a new turn by developing its psychedelic side by distorting comics visuals. The artist defines his style as "neo-cubism."
His unmatched style has made him famous and he has been invited to many art galleries in Europe, but also in Miami during Basel, where he made a mural at the Wynwood Fest alongside Futura and Shepard Fairey. Today, Pro 176 conquers Asia, where he collaborates with China, but remains open to painting walls and facades. Street Art Barcelona took advantage of the occasion to invite him to perform a live painting on October 5, 2022 during which the artist immersed the Guzzo room in his world of color distortions. An arduous task of more than 24 hours that the artist undertook to give new life to the place in a hip-hop atmosphere with Houellebreak on the decks, before the astonished gaze of an enthusiastic audience. A rare and memorable moment shared with a singular artist.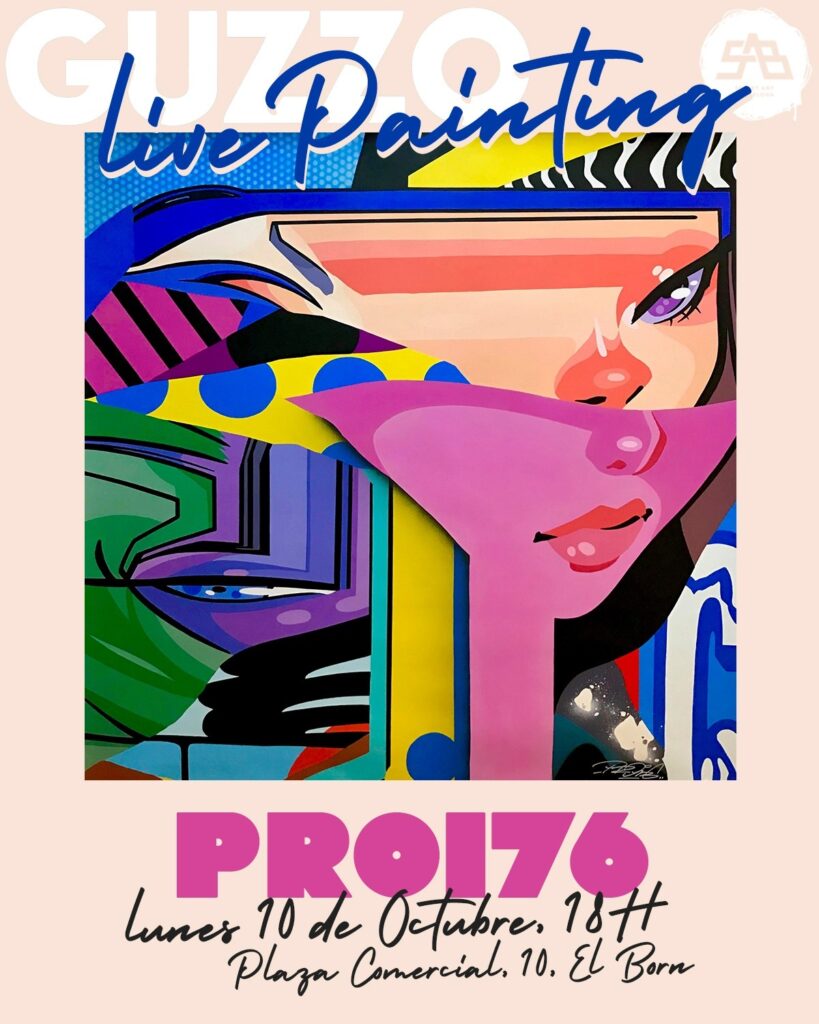 Posted in
Blog
and tagged
art
,
Barcelona
,
exhibition
,
exposicion
,
graffiti
,
guzzo
,
live painting
,
montana
,
montana gallery barcelona
,
mural
,
murals
,
pro176
,
street art
,
street art barcelona
,
street art bcn
,
streetart
,
streetartbcn
,
Urban Art
.