Zosen & Mina Hamada, two long residents in Barcelona and major figures of the local muralist scene have been ​​painting a large mural in the neighborhood of La Mina to give color to the streets and visibility to the community.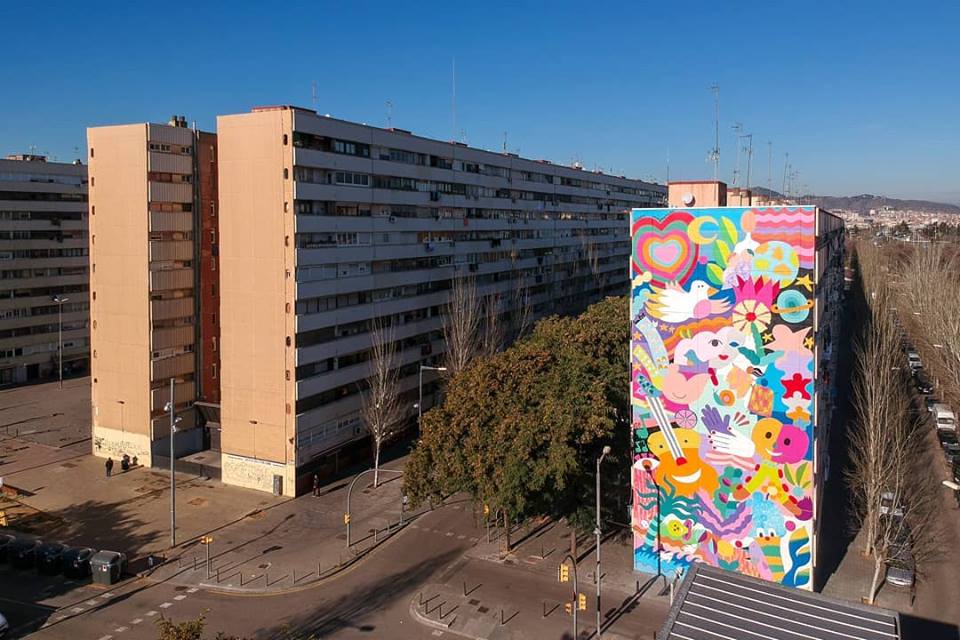 Zosen grew up in Sant Adrià del Besós where he started painting his first graffiti pieces and murals in the 90's. Over the years he managed to travel the world and leave his mark on different cities in North and South America, Europe and Asia. Many of these murals in collaboration with the Japanese artist Mina Hamada, who upon arriving in Barcelona in 2009 was intrigued by this neighborhood called by her name. From that point the idea began to be forged.
In the summer of 2018 Zosen and Mina began to do workshops with some associations that work with kids from the neighborhood, with the objective to create a mural with the ideas collected during those sessions. The workshops involved young people of different nationalities and cultures, neighbors of La Mina and Besòs which demonstrate the diversity of the neighborhood. The artists Zosen and Mina collected the ideas drawn and painted by all the participants of the workshops, and from there began to create a proposal for the mural.
The children participating in the workshops were asked what they wanted or how they imagined their neighborhood of the future. It coincided in values ​​such as: coexistence, respect between different cultures, visibility within society of people living in the neighborhood, peace, nature, green spaces, friendship, love, family and culture. This mural finally shows a neighborhood with cultural diversity where flamenco, the sea, planets are part of the streets names that make the galaxy of La Mina.
This project was supported by the Ajuntament of Sant Adriá del Besòs
Photos German Rigol