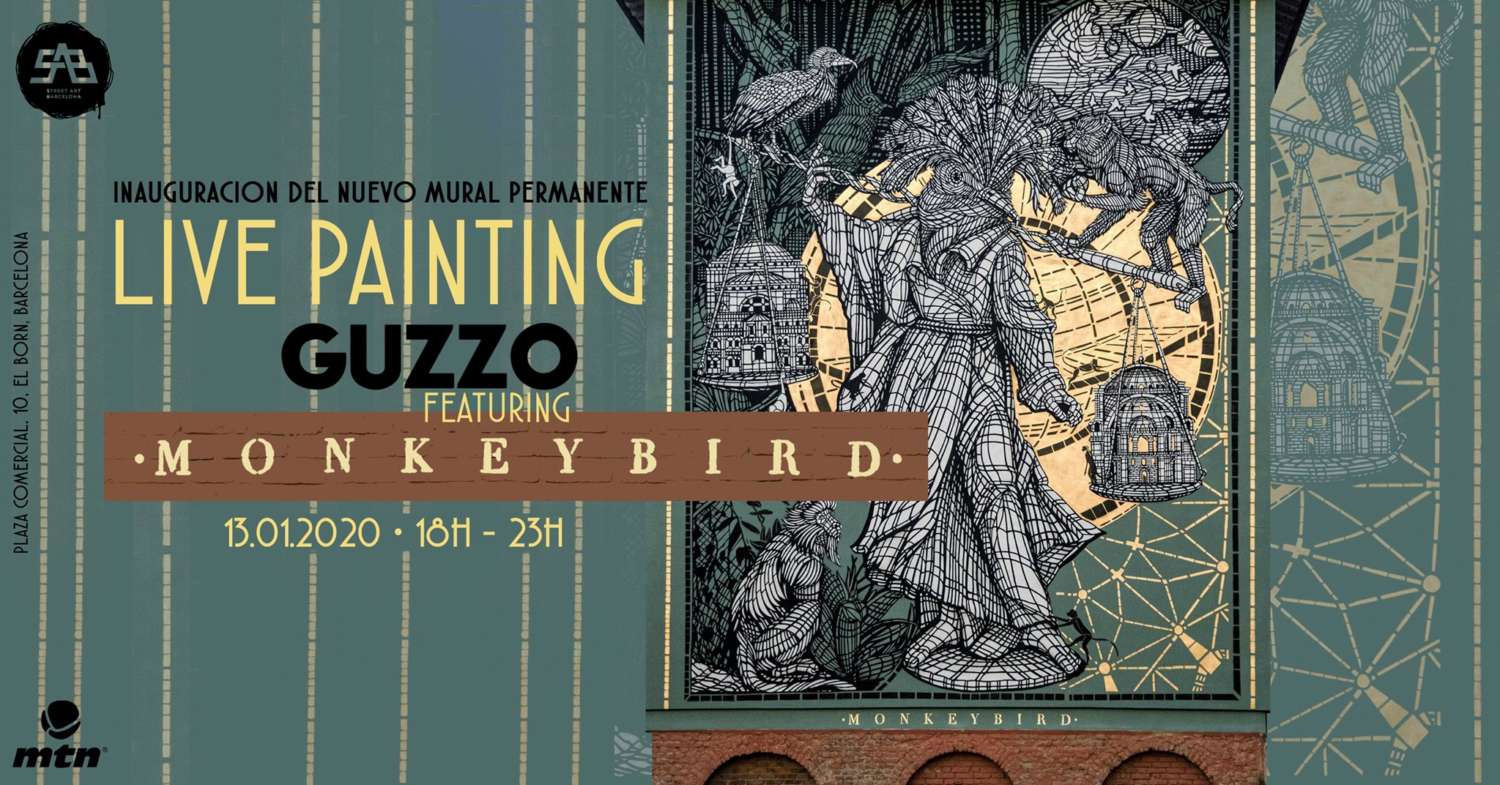 EN
Let's start 2020 with a new event we are proud to be curating. On Monday, January 13th, we invite you to the inauguration of a new mural by MonkeyBird, a duo of artists specialized in stencils based in Bordeaux, France. They will be painting live a new permanent wall of Guzzo club.

MonkeyBird creates large-scale murals with mythological animals as the center of their creations. Most of MonkeyBird's works incorporate a monkey and a humanoid bird, which represent "the two faces of humanity; the monkey is the realistic face and the bird is the dreamer," according to 5Art Gallery (Paris). The details of the old world, such as classical architecture, timing devices and scales add to the timeless appearance of the paintings of this impressive duo. In addition to be lovers of alchemy and mythology, MonkeyBird are also experts in graphic and industrial design.
In addition to the live painting, we will also enjoy the musical selection 100% vinyl of M.Houellebreak – www.mixcloud.com/vrai-niveleur
And also from our resident Soulaze – www.mixcloud.com/soulblaze
ES
Arrancamos el 2020 con una gran novedad en Guzzo: recibimos un nuevo mural permanente en el Salón Negroni, comisariado por Street Art Barcelona. El Lunes 13 de Enero os invitamos, como siempre a partir de las 18Hrs, a su inauguración featuring MonkeyBird, un duo de artistas especializados en plantillas con sede en Burdeos, Francia.
MonkeyBird crea pinturas a gran escala y con animales mitológicos como centro de sus creaciones. La mayoría de las obras de arte de MonkeyBird incorporan a un mono y un pájaro humanoide, que representan "las dos caras de la humanidad; el mono es la cara realista y el pájaro es la soñadora", según 5Art Gallery (Paris). Los detalles del viejo mundo, como la arquitectura clásica, los dispositivos de cronometraje y las balanzas se suman al aspecto atemporal de las pinturas de este dúo tan impresionante. Además de amantes de la alquimia y de la belleza de la mitología, los miembros de MonkeyBird son expertos en diseño gráfico e industrial…
Podremos ademas disfrutar de la seleccion musical 100% vinilos de M.Houellebreak – www.mixcloud.com/vrai-niveleur
Y tambien de nuestro residente Soulaze – www.mixcloud.com/soulblaze