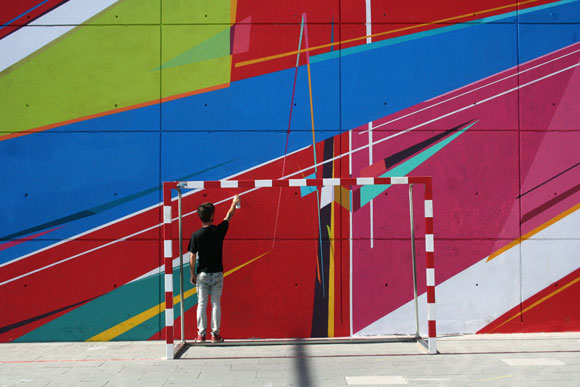 Via: MTN WORLD
After having witnessed the work of Kenor for the Open Walls Conference, we got our hands on more images for a more thorough look on his great artwork.
Along with the pictures we get brief, but interesting, interview which is really worth reading.
-Explain a bit about the concept of the wall.
I found myself there in the middle of Ronda del Alt in Barcelona with traffic all around me, flashing by beside me. I chose to make two shapes as a initial concept, one on the right and another on the left, and then I started creating from the straight lines. I tried to unite them all to give more velocity to the two initial forms.
-How long did you spend on it?
16 hours
-How is it possible that you never have made a mural like this in Barcelona before?
I don't want to have anything to do with the people in power and their laws and restrictions.
10 years ago they erased the muralist painter from the map of Barcelona, this way they killed the artistic scene of the streets.
This is the first wall I have made with permission in 25 years, and I never needed it.
-What is your view of the urban arts scene in Barcelona?
Illegal.
The day they change the laws against graffiti we will start a dialogue, and until then we will continue as we are.
-But it seems like it has changed a bit for the better… Is it true?
Lets not fool ourselves, the fact that some groups of people manages to generate legal projects with the permission from the city's administrative representatives only means that they look for more control.
The same goes for all expressions in the street… skate, music, photography…
The activities of our liberty of expression is controlled by fear for the collective thinking and union between us. We are individuals. They have separated us.
On the other hand, the one who believes to be an artist and wants to make a living from it just rides the wave of urban art in Europe's galleries,  and when they conceive it they disappear.
The end of an artist is simply like this…
The same thing seems to happen in graffiti, you turn up, paint, they talk about you, and then you disappear again. This situation does not give back anything to the local scene.
-And its repercussion in the art world in Barcelona/Spain?
If the streets are clean it is impossible to have a gallery which claims to be specialized in this artform with an audience who demands it, its a contradiction.
-What opinions are raised in people about what you do?
You would have to ask them.
-Is there something somebody have said to you when you are painting which has  got stuck in your mind?
"Do you pay these spraycans yourself?"