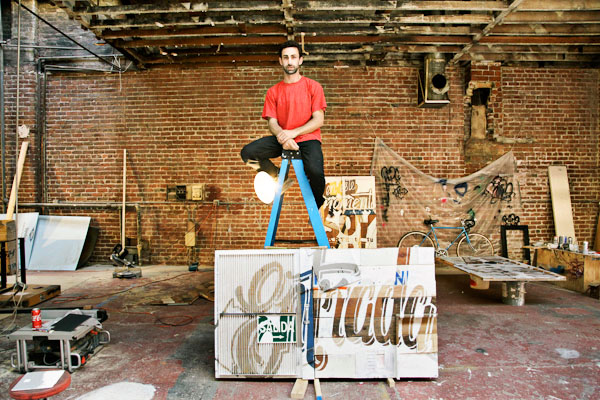 Photographer Abby Wilcox came by Max "Ripo" Rippon's workspace to get a sneak peek at the pieces Ripo has been crafting for his White Wall's show "Signs, Fines, and Cheap Wines," and asked him a few questions about his trip to SF & his life in Barcelona for Live Fast Mag
"Signs, Fines & Cheap Wines" fits the character of Barcelona-based street artist Max "RIPO" Rippon. It's the title of his upcoming show at White Walls gallery, and though we hope the artist doesn't encounter the infamous fines that accompany the street art lifestyle, there will be plenty of signs and cheap wine. His tongue-and-cheek take on typography and text-based art clearly translated well to his large-scale pieces, pictured below, which he crafted mostly from found wood, metal, glass, stone and plastic. He plays with negative space with white enamel, allowing the natural materials to play an active role in composing the letters and texts. We were lucky enough to get a studio visit with the talented artist, who definitely emits a lil' NYC, but is as laid back as any barcelonian.
Q&A
LF: So you're in SF for your first solo show "Signs, Fines and Fine Wines." How is the city treating you so far?
MR: I haven't had a lot of time to explore the city but the Tenderloin feels like home already.
LF: Are you a wine guy?
MR: Are you calling me a wine-o?
LF: You're a Barcelona transplant from NYC. Why Barcelona?
MR: To put it bluntly: quality of life and freedom.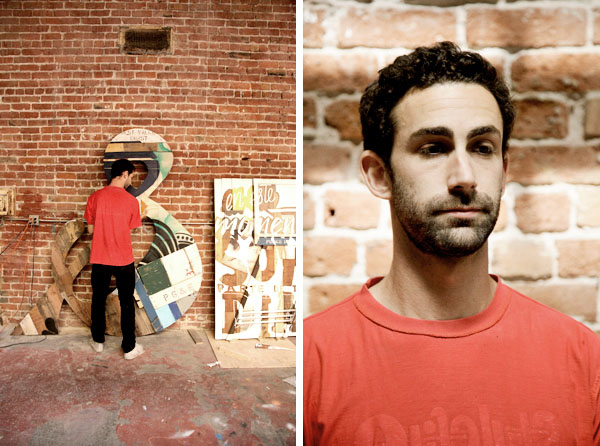 LF: We want to you know your fave things about Barcelona. Best restaurant? Best place to see live music? Most favorite place to mob the streets with your artwork? Best place to have sex in public?
MR: I live and love the Raval-istan for all of the above. And Oviso bar, you'll find me there most nights.
LF: You speak several languages. Did that just come with the territory of moving there?
MR: Yep.
LF: At what age did you start painting the streets?
MR: I first went out with a spraycan in hand at 13 years old.
LF: How has being born and raised in NYC shaped you as an artist?
MR: Growing up in NYC, or any big city I think, you're forced to coexist with people from all walks of life. Walking down the street you'll cross business men, delivery guys, skaters, street hustlers, drug dealers, prostitutes, fashionistas, party people, drunks, whoever, and you have to understand everybody belongs to the city and the city belongs to everybody, and that's alright. That's shaped me as an artist and as a person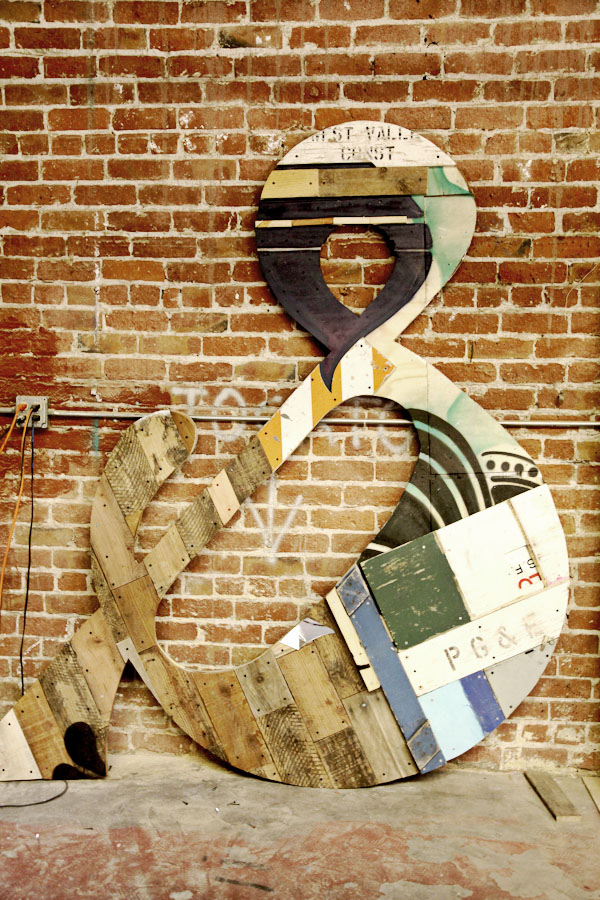 LF: "I get the most satisfaction when a word fits perfectly to a situation, in expressing something personal that others can relate to." So you're a man of many words?
MR: I've painted a lot of words and often prefer to let them do the talking for me.
LF: A bunch of your friends are coming from NYC and LA for the show. How does it feel to be back in the States? What do you miss the most? What do you miss the least?
MR: The U.S. is a beautiful bitch who's got many ugly sides to her. But I do miss the food, the fully stocked hardware stores, and stores not closing for two hours in the middle of the afternoon.
LF: How do you get off, literally or figuratively?
MR: Sex. Art. Food. Not necessarily in that order.
LF: How FAST do you live?
MR: That depends on how I wake up in the morning.
Original Article on: Live Fast Mag – Fashion Art Sex Travel