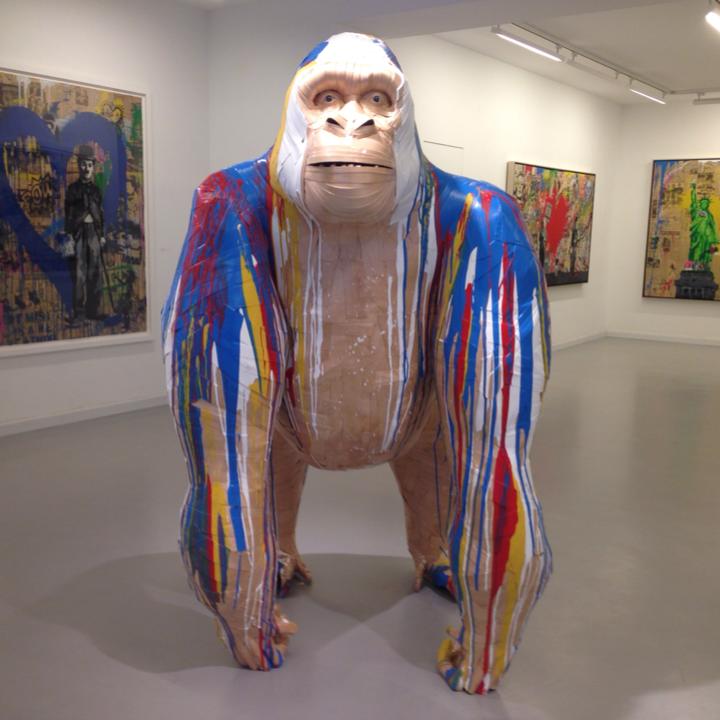 Via 3punts Galeria: 3punts.com
Nacido en Francia y afincado en Los Angeles, el artista Thierry Guetta (París, 1966), que más adelante se convertiría en Mr. Brainwash,  es hoy una referencia del arte urbano a nivel mundial. Desde sus inicios en Los Angeles en 2006 hasta hoy, Mr. Brainwash ha expuesto en ciudades como Nueva York, Miami, Toronto, Los Angeles, Londres o Ciudad del Cabo, ha trabajado para Madonna o Seth McFarlane y ha protagonizado un documental dirigido por el famoso icono del arte urbano Banksy. El próximo 14 de noviembre se exponen sus obras más representativas por primera vez en España en 3 Punts Galeria de Barcelona, entre las que se encuentran piezas únicas sobre tela, cartón y papel de pequeño, mediano y gran formato y, creadas especialmentes para la exposición, una serie de obras únicas de pequeño formato y una escultura cuyo motivo será uno de los símbolos más queridos y añorados de la ciudad: Copito de Nieve.
CV – Biografía:
MR. BRAINWASH
(1966, Sarcelles, Francia)
1982
Se traslada a Los Ángeles, California.
1990
Comienza a filmar obsesivamente todo lo que gira alrededor de su vida.
1992
Realiza sus primeras pinturas en su garaje.
1996
Abre una tienda de ropa vintage en Los Ángeles, lugar conocido por artistas y diseñadores en boga.
1999
Se centra en la grabación de un documental sobre artistas de arte urbano, "Life remote control".
2005
Coloca sus primeros stencils y carteles en las calles de Los Ángeles, Nueva York y París.
2007
El documental "Life Remote Control" se presenta en el Off Film Festival de Cannes.
2008
Banksy le invita a participar en el "Can Festival" de Londres.
Primera exposición individual, "Life Is Beautiful", inaugurada en Hollywood.  Primera portada en LA Weekly, una de las publicaciones divulgativas más importantes de Los Ángeles. La muestra, que duró 6 meses y atrajo a 50.000 visitantes, pasó a ser una de las exposiciones individuales más memorables de la historia del arte en Los Ángeles.
Crea una imagen de "Obama Superman" durante la campaña presidencial, que fue publicada en la portada de The New York Times.
2009
Diseña la portada del disco "Celebration", recopilatorio de grandes éxitos de Madonna, y otras 15 portadas para singles, DVD's, discos de vinilo….
2010
Primera exposición individual en Nueva York "Icons" en el Meatpacking District, prorrogada durante 9 meses  como "Icon Remix" debido a un éxito abrumador.
Diseña los escaparates de los grandes almacenes "Printemps" durante la semana "Printemps Loves NY". Instala un neumático de King Kong de 6 metros de alto en frente de la entrada a los almacenes.
Estreno del documental "Exit Through The Gift Shop" en Sundance. Convertida en una película de culto, fue nominada a los Premios Oscar en la categoría de mejor documental.
Ponente en la conferencia de Sotheby's con las celebridades del mundo del arte Louise Neri, Gagosian Gallery y Bob Colacello para explorar las tendencias entre los artistas contemporáneos y los marchantes y su efecto en el mercado del arte.
Con la exposición pop up "Under Construction" en Art Basel Miami, consigue una enorme repercusión en la Feria.
Mural de Madonna para su primer gimnasio "Hard Candy" en México DF, México.
Primera subasta en Philips De Pury & Company en Nueva York y Reino Unido. Los resultados superan ampliamente las estimaciones.
2011
Exposición e instalación en el Toronto International Film Festival, para la exposición Grace Kelly TIFF "Movie Star to Princess".
Exposición en la galería Gallery One, Toronto, Canadá.
Segunda exposición pop up en Art Basel Miami en la Avenida Collins. El evento confirma a Mr. Brainwash como el artista más relevante del momento.
Colaboración con Google para un evento de música y arte de una noche en Los Ángeles, California.
Segunda exposición individual en Los Ángeles en un edificio abandonado de 25.000 metros cuadrados. Una de las plantes fue dedicada a la exposición de obras donadas provenientes de todo el mundo. Se invitó a los artistas a enviar o instalar ellos mismos sus obras.
2012
Exposición privada en Sotheby's, México DF, durante la Feria de Arte Zona Maco.
Exposición individual  en el Centro de Arte Contemporáneo Dieresis en Guadalajara, México.
Diseña un bus MTV para la campaña Rock the Vote.
Primera exposición individual en el Reino Unido durante los Juegos Olímpicos en la antigua oficina de Correos en el centro de Londres. Duró de junio a octubre y fue su exposición más visitada con 250,000 visitantes.
Dirige el videoclip del DJ David Guetta "Metropolis".
Exposición en la Opera Gallery, Dubai.
2013
Diseña la fiesta posterior a la celebración de los Oscar organizada por el anfitrión de los Oscar Seth McFarlane.
Instalación de arte "Mr. Brainwash" en el Hard Rock Hotel, Palm Springs durante el Coachella Music Festival.
Diseña el telón de fondo de la Coca Cola Red Carpet en los American Music Award.
Residencia en el Hotel Gale South Beach durante Art Basel. Llena el edificio de pop art instalando pinturas y esculturas de gran tamaño que cubren el edificio durante Art Basel.
Exposición "Art War" en la Saatchi Gallery, Londres.
2014
Crea la portada del disco de Rick Ross "Mastermind" y un póster para la edición deluxe del disco de Michael Jackson "Xscape".
Mural de Madonna para su gimnasio "Hard Candy" de Toronto, Canadá.
Realiza una performance de pintura en vivo en el Jimmy Fallon Late Night Show, Nueva York.