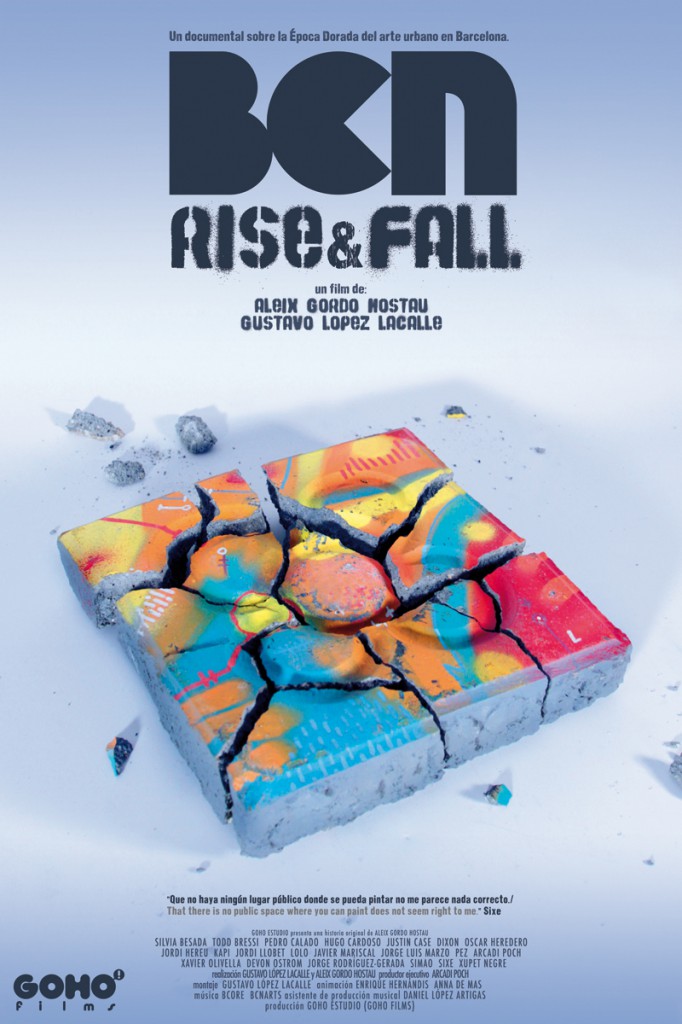 The documentary, BCN RISE&FALL, traces a journey from the beginnings of street art movement in Barcelona until now, emphasizing how one of the most important scenes in the world of street art was created.
In the early 2000s the city of Barcelona became one of the world capitals of street art. At that time a very unique scene was created and made the birth of some of the best international talents today possible. Everything was suddently swept away by the authorities. BCN RISE&FALL tells the story about the love and hate relationship Barcelona has with the graffiti and street art, throughout the testimony of the city itself and its most important artists and rulers who participated in this historical moment.
The artistic cast of the film includes the participation of some of the most internationally representative figures of street art scene of Barcelona; artists like Sixe Paredes, Jorge Rodriguez Gerada, El Pez, Xupet Negre or Dixon tell us their experience of what happened in Barcelona. On the other hand, the film also features the testimony of other important figures as the former mayor of Barcelona, Jordi Hereu, the President of the Institute of Urban Landscape and Quality of Life, Xavier Olivella or even Javier Mariscal.
BCN Rise&Fall – Street Art Documentary – Trailer from Goho Estudio on Vimeo.
TECHNICAL FEATURES:
directors: ALEIX GORDO HOSTAU y GUSTAVO LÓPEZ LACALLE
starrings: XAVIER BALLAZ, SILVIA BESADA, TODD BRESSI, PEDRO CALADO, HUGO CARDOSO, JUSTIN CASE,DIXON, OSCAR HEREDERO, JORDI HEREU, KAPI, JORDI LLOBELL, LOLO, JAVIER MARISCAL, JORGE LUIS MARZO, PEZ, ARCADI POCH, XAVIER OLIVELLA, DEVON OSTROM, JORGE RODRÍGUEZ-GERADA, SIMAO, SIXE, XUPET NEGRE
realization: GUSTAVO LÓPEZ LACALLE y ALEIX GORDO HOSTAU
realization assistants: DANIEL LÓPEZ ARTIGAS, FEDERICO SÁNCHEZ, ARCADI POCH
editing: GUSTAVO LÓPEZ LACALLE
music: BCNARTS y BCORE
musci production assistant: DANIEL LÓPEZ ARTIGAS y KAPI
production: GOHO FILMS (GOHO ESTUDIO)
executive producer: ARCADI POCH
production assistant: MELANIE HORKAN
graphic design/illustration: ALEIX GORDO HOSTAU
animation: ENRIQUE HERNANDIS y ANNA DE MAS
The international premiere of the documentary film will be on February 5th at 19:00h at the  Antiga Fàbrica Estrella Damm (c/Rosselló 515) in Barcelona.
EVENT_Premiere
SCHEDULE:
18:30 – VIPS Entrance / Photocall
19:00 – Gates opening .
19:15 – Presentation in charge of the Aleix Gordo Hostau and Gustavo López Lacalle and the executive producer Arcadi Poch.
19:30 – Projection of BCN RISE&FALL.
20:30 – Cocktail-party with music.
22:30 – Closing.
————
23:30 – Afterparty at Guzzo Club (Plaza comercial 10 – El Borne)
CREATION AND PRODUCTION: Goho Estudio/Monday2Friday/Arcadi Poch
SPONSORS: ESTRELLA DAMM, MONTANA COLORS, KARACTERMANIA, OBEY, GUZZO, PHOTOSLURP.
DAY: February 5th at 19:00h (19:30 – Projection)
PLACE: Antiga Fàbrica Estrella Damm Barcelona, C/Rosselló, 515, Barcelona
EVENT ON FB:  HYPERLINK "http://www.facebook.com/events/988104861203494″ http://www.facebook.com/events/988104861203494
FB PAGE:  http://www.facebook.com/BCN.Rise.Fall.Street.Art" http://www.facebook.com/BCN.Rise.Fall.Street.Art
TRAILER: