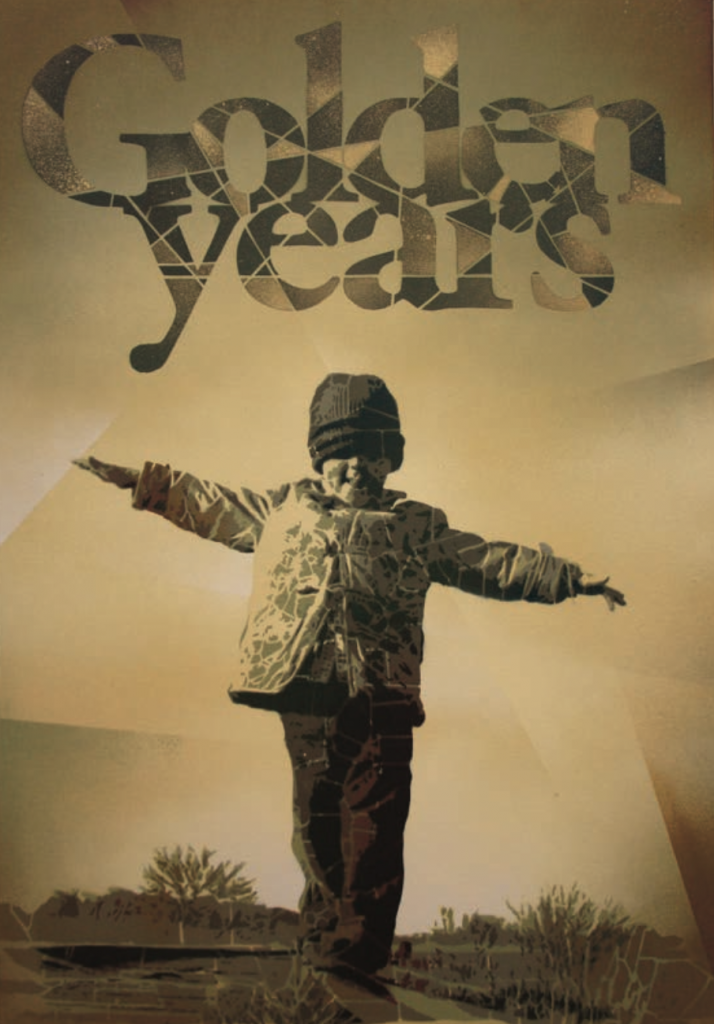 Inauguración, jueves 4 de febrero
Con este título N2 Galería apuesta por el trabajo de dos jóvenes artistas que en su obra nos muestran lo que se denomina "Talismanes de la Memoria". Viejas fotografias les sirven de referencia a una de forma más académica y al otro a partir de stencils graffiteros.
"Con frecuencia, las fotografías antiguas se guardan en cajas, cajones y álbumes que con- tienen tanto memorias como olvidos. Son poderosos talismanes de la memoria pero también pruebas dolorosas de los olvidos que dejan las ausencias de quienes atesoraron aquellas imágenes. (…)
Las instantáneas antiguas, con sus arrugas y sus huellas del paso del tiempo, nos conmueven cuando recuperan los rostros de los seres queridos y nos inquietan cuando nos enfrentan a desconocidos con los que, sin embargo, nos sabemos conectados. La fuerza del legado fa- miliar o histórico frente a la fragilidad de la memoria y la facilidad de caer en el olvido. (…) Con su nacimiento en el siglo XIX, la fotografía parecía haberse apropiado de la tarea de cus- todiar la memoria, sin embargo, en la actualidad la pintura parece querer conquistar ese am- bicionado rol."
El trabajo que nos presentan los artistas Eva Agasa y el graffitero Roc Blackblock, se inspira en esa memoria fotográfica. Su obra si cabe da un sentido más profundo que el que nos pro- vocan en si mismas estas fotografias. Ya que ambos matizan, ensalzan, ahondan …. la visión que a ellos les provoca.
*Rebeca Pardo:
Doctora BellasArtes.
Profesora en Universidad de Barcelona y en la Universidad AbatOliba CEU.
————————————————————————
With this exhibition N2 Galería bet for the work of two young artists that they show in their art- work what it's named "Talismans of Memory ".
Old pictures are the reference for a more academic artist and for a stencil graffiti artist.
"Often, old photos are stored in boxes, drawers and albums containing both memory and oblivion. They are powerful talismans but also painful memory of the oversights that leave the absences of those who cherished those images. (..)
Old snapshots with its wrinkles and traces of time, they move us when recovering the faces of loved ones and worry us when they face us to the unknown people with whom we are ho- wever all connected. The strength of the family or historical legacy against the fragility of me- mory and the ability of falling into oblivion. With its birth in the XIX century, photography seemed have appropriated to the task of guarding the memory, however, painting nowadays seems to conquer the coveted role."
The work presented by the artist Eva Agasa and the graffiti artist Roc Blackblock, it is inspired by this photographic memory. Their artwork, if possible, gives a deeper meaning than the one that pictures evoke for themselves. Both of them qualify, extol and delve the vision caused.
*Rebeca Pardo:
Fine Arts PhD.
Teacher at Universidad de Barcelona and at Universidad AbatOliba CEU.
---
ROC BLACKBLOCK
Barcelona, 1975
Licenciado en Diseño Gráfico, U. Elisava, Barcelona.
Exposiciones Colectivas (Selección)
2016 "Golden Years" Eva Agasa y Roc Blackblock. N2 Galería, Barcelona. 2015 "Desde la barra de un bar", exposición colectiva. N2 Galería, Barcelona. 2015 Swab Art Fair, Barcelona. N2 Galería, Barcelona.
Intervenciones Individuales / Street art
2015 Casal de Jóvenes de Argentona. Graffiti en edificio Velcro en el marco de las jornadas "Art gent jove" 2015 Casal de Jóvenes de Ripollet, Ripollet. Graffiti en homenaje a Neus Català en motivo de la conmemora- ción del 100 aniversario.
2015 Casal de Jóvenes de Roquetes, Barcelona. Graffiti en el Casal de Jovenes, en el marco del "Open walls conference".
2015 Teatro Arnau, Barcelona. Graffiti en el teatro Arnau para la plataforma "Salvemos el Teatro Arnau".
2015 Mercado del Clot, Barcelona. Graffiti en las persianas del Mercat del Clot en homenaje a Joan Amades. 2015 "20 anys de vacances", Vic. Graffiti programado dentro de los actos de homenaje a Ovidi Montllor.
2015 I. Artístico Oriol Martorell, Barcelona. Graffiti en las salas de ensayo del Instituto Oriol Martorell.
2014 La Calavera, Sant Joan de les Abadesses. Graffiti en la fachada de la fábrica de Cerveza "la Calavera" 2014 Biblioteca de Horta Guinardó Mercè Rodoreda, Barcelona. Graffiti en la fachada de la Biblioteca munici- pal Mercè Rodoreda.
2014 Muros plásticos. Graffiti en el casco viejo de Manresa en el marco del proyecto de arte urbano "Murs plàstics".
2014 Ofensiva contra el olvido, Artés, Lérida. Graffiti dentro de los actos de la "XVII Marxa d'homentage als màquis".
2014 Kasa de la Muntanya, Barcelona. Graffiti en la fachada del Centre Social Kasa de la Muntaña.
2013 Escuela de arte Traç, Barcelona. Graffiti en la persiana de la escuela de arte Traç.
2013 UCFR, Barcelona. Graffiti realitzado en colaboración con Unidad contra el Fascismo, por la recupera- ción de la memoria histórica.
2013 Mercado central de Gràcia, Barcelona. Participación en el proyecto "Enrotlla't" de intervención de las persianas exteriores del mercado.
2013 Centro Social Autogestionado CanVies. Graffiti en la fachada.
2013 La Carbonería. Graffiti en la fachada del Centre Social "La Carboneria"
2011 Ateneu Popular 9 Barris, Barcelona. Graffiti en la fachada del emplazamiento provisional del centre cul- tural Ateneu popular 9 Barris
2004 Levis. Graffiti realizado par el catálogo de Levis.
2002-Konbe Bar. Graffiti en la fachada del bar Konbe.
2002 Flaix Fm. Graffiti en directo durante la fiesta de la emisora. Barcelona.
2001 Montana colors, Spray Planet, decoración de las oficinas de la distribuidora de Montana Colors.
2001 EL mercadillo, Barcelona. Decoración de la terraza del Bar del centro comercial.
2001 La factoría musical,Cornellà de Llobregat. Graffiti en la fachada principal de la sala de ensayo. 2000-2005 Exhibición de graffitis CSA Hamsa. Organización y participación de las exposiciones realizadas en el Centre Social Hamsa, Barcelona.
Tattoos
2013-2016 Tatuador "on the road"
2010-2013 Tatuador en SanTattoo, Santa Perpetua de Mogoda
2007-2010 Tintalinda tattoo Studio, Santa Coloma de Gramanet
2006 Tatuador en l'Embruix, Barcelona.
1999 Tatuador freelance desde 1999 especializado en realismo y "custome works"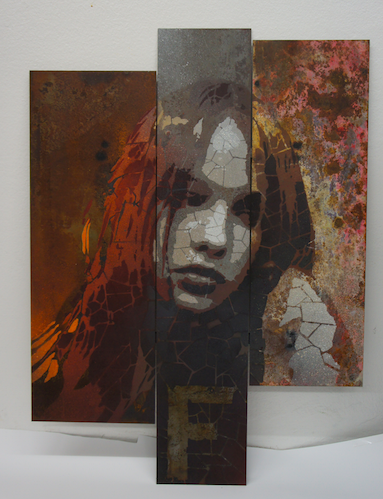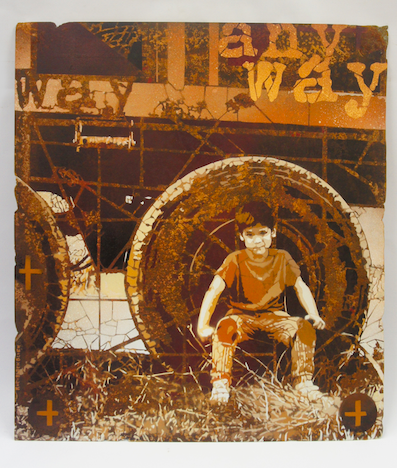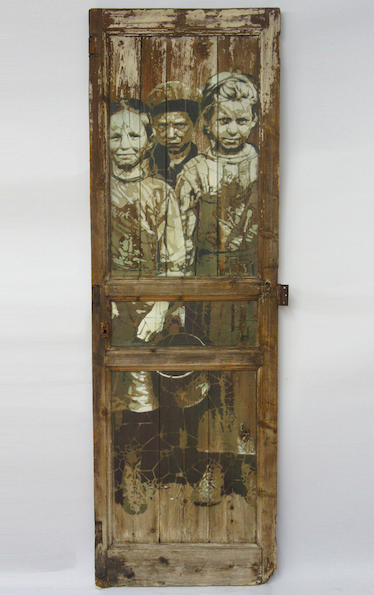 ---
EVA AGASA
Ulldecona, 1976.
Licenciada en Bellas Artes, U. B.
Exposiciones Colectivas (Selección)
2015 Desde la Barra!, N2 Galería, Barcelona.
2015 Premio de Pintura Miquel Viladrich 2015, Torrelameu (Lleida)
2006 Muestra de Artistas a la Casa de Cultura de Ulldecona organizada por la "Mancomunitat Taula del Sènia"
1996 Exposición itinerante "Pintors del Montsià", organizada por el Instituto de Estudios Comarcales del Montsià
1995 Concurso-Exposición "Pintors Novells de les Terres de l'Ebre", organizado por el Centro del Comercio de Tortosa
1995 Exposición de Pintura en la Casa de Cultura de Ulldecona
1995 Exposición de Pintura en el Casal de Godall
1994 Exposición de Pintura en la Casa de Cultura de Ulldecona
Exposiciones Individuales (Selección)
2016 "Golden Years" Eva Agasa y Roc Blackblock. N2 Galería, Barcelona.
2014 Exposición de obra de pequeño formato en la galería La Casa de la Espiral, Barcelona
2014 Exposición de pintura "Mirades" en la Biblioteca Seshat de la Escuela Suiza de Barcelona 2014 Artista invitada en la galería La Casa de la Espiral en el marco de los "Tallers Oberts a Gràcia" 2013 Exposición de pintura "Escenes" en la Casa de Cultura de Ulldecona
Convocatorias y premios
2015 Pre-seleccionada en el "14è Premi de Pintura Ricard Camí" 2015 Finalista en el "Premi de Pintura Miquel Viladrich 2015"