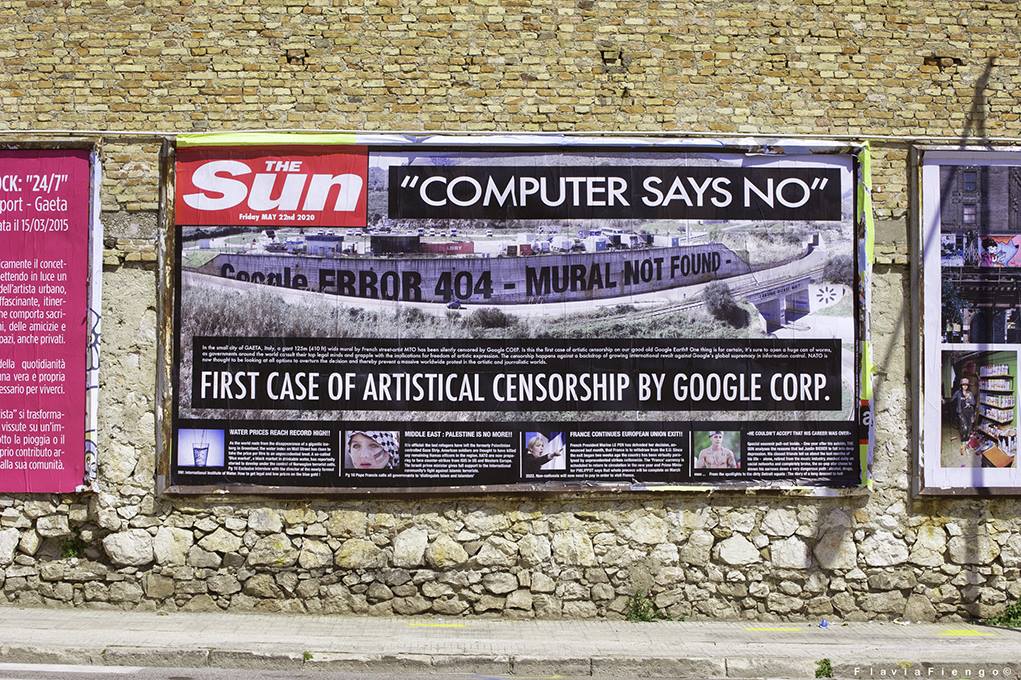 TAGTICAL MEDIA 5 :
"We live on Google earth." A new street artwork by french artist MTO ( Check out his Flickr )
The SUN magazine
Friday MAY 22nd 2020
FIRST CASE OF ARTISTICAL CENSORSHIP BY GOOGLE CORP.
"In the small city of GAETA, Italy, a giant 125m (471 ft) wide mural by French street-artist MTO has been silently censored by Google CORP. Is this the first case of artistic censorship on our good old Google Earth? One thing is for certain, it's sure to open a huge can of worms, as governments around the world consult their top legal minds and grapple with the implications for freedom of artistic expression. The censorship happens against a backdrop of growing international revolt against Google's global supremacy in information control. NATO is now thought to be looking at all options to overturn the decision and thereby prevent a massive worldwide protest in the artistic and journalistic worlds."
Mural and billboard created for MEMORIE URBANE Festival 2015 in Gaeta, ITALY.
Curated by Davide ROSSILLO.
Many thanks to Ali & Adam TURKINGTON, Davide & Stella, Flavia FIENGO and Gianluca.
Mural visible at the crossing of Via deli'Agricoltura and Via Mariano Mandolesi, 04024 Gaeta LT, and soon on Google Earth or Google street view.