The latest street art news, artist interviews, gallery exhibitions and photos from the Barcelona urban art scene.
Street Art Barcelona is a collaborative platform created to support & promote the Barcelona art scene.

Guzzo y Street Art Barcelona presentan a Murone por primera vez en live painting en Barcelona. Originario de Tenerife, ilustrador y diseñador gráfico con más de 15 años de experiencia, Iker Muro desarrolla sus inquietudes estéticas sobre paredes desde 2002. Galardonado con un LAUS en 2011, Muro define su trabajo como una combinación ácida de elementos pop y diseño gráfico. Intervenido en numerosas ciudades alrededor del mundo y expuesto en otras tantas, podremos verlo pintar en directo sobre la pared del Guzzo el 27/11 a partir de las 18.00!
Ademas de una noche de PINTURA, difundiremos VIDEOS de previstos proyectos de Murone y podremos disfrutar de la seleccion MUSICAL de Blaze Sounds (www.mixcloud.com/Reykone).
www.mrmuro.com
www.guzzoclub.es
www.streetartbcn.com
EN:
Guzzo and Street Art Barcelona are presenting Murone for the first time in live painting in Barcelona. Originally from Tenerife, illustrator and graphic designer with more than 15 years of experience, Iker Muro develops his aesthetic approach on walls since 2002. He was awarded a LAUS in 2011, and defines his work as an acid combination of pop elements and graphic design. Invited in numerous cities around the world and exhibited in many others, Murone will finally paint in direct on the wall of Guzzo on 11/27 from 6pm!
In addition to a night of PAINTING, we will broadcast VIDEOS of previous Murone projects and we will enjoy the MUSICAL selection of Blaze Sounds (www.mixcloud.com/Reykone)!
www.mrmuro.com
www.guzzoclub.es
www.streetartbcn.com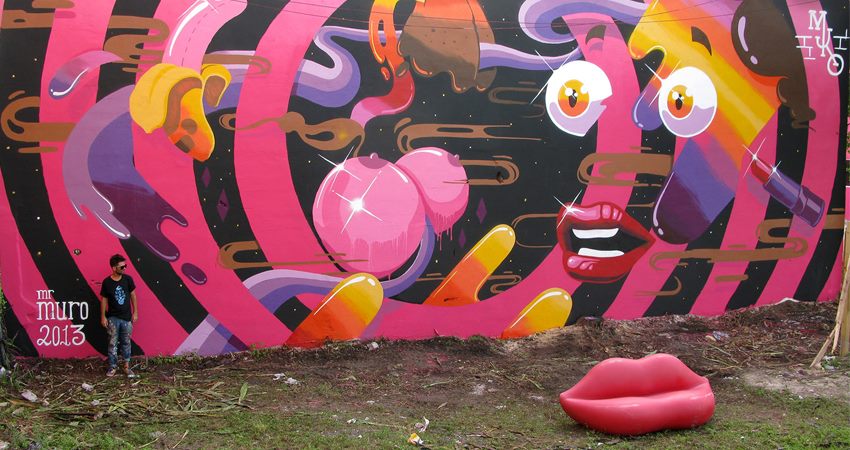 Posted in
Agenda
,
Blog
,
Muro
and tagged
art
,
Barcelona
,
exhibition
,
exposicion
,
guzzo
,
guzzoo
,
live painting
,
mrmuro
,
muralismo
,
muro
,
murone
,
street art
,
street art barcelona
,
street art bcn
,
streetartbcn
,
Urban Art
.
Beirut Digital District commissioned the artist Jorge Rodríguez-Gerada, in collaboration with BAD. (Built by Associative Data), to paint a mural in the district of Bachoura on a building that bears the marks of war and awaits to be re-built in Beirut, Lebanon.
Many societies have been shadowed lately by wars and conflicts, putting a tremendous weight on children's education and future. Gerada's concepts have been long driven by social parameters. Titled 'Connection' the mural portrays a young boy exploring an Arduino board, alluding to the essential need for innovation and education in building a better future for the society.
After the conflicts that have violently marked the city of Beirut, and with Bachoura being once the front line of the devastating 1975 Civil war, the area is now being brought back to life by Beirut Digital District. Beirut is witnessing an incredible and hopeful metamorphosis.
Gerada has been "replacing the faces of cultural icons chosen by advertisers with the faces of anonymous people to question the controls imposed on public space, the role models designated and the type of events that are guarded by the collective memory. His large scale time base works avoid negative impact on the environment, challenge the conformity in contemporary art and allow for a reflection that goes beyond the completion of the piece to focus in its concept, process, and the metaphor that comes forth because of the material chosen".
About Jorge Rodríguez Gerada:
Born in Cuba in 1966, raised in the US and currently residing in Barcelona, Jorge Rodríguez-Gerada is a visual artist internationally known for his innovative artistic work and for the multiplicity of technics that he applies in his prolific production.
His work, created in extraordinary large scales, is visible from space and needs to be photographed from the sky, even by satellites. The dimension of the artwork is intrinsic to the importance of what is being said, from questioning complex social issues, such as identity, human rights or climate change.
He has created his work in diverse places: Amsterdam, New Zealand, London, Sao Paulo and Bahrain are just a few examples. He has exhibited in galleries such as Galería N2 (Barcelona) and Galerie MathGoth (Paris) and has been part of prestigious publications about urban art such as the TATE Gallery catalogue in London, Street Art. The Graffiti Revolution (Cedar Lewisohn, 2008) of Designing Obama (Scott Thomas, 2009).
About BAD:
Built by Associative Data is a young international design and architectural practice with several offices in Spain (Barcelona), Dublin (Ireland), and Lebanon (Beirut) . They provide a full range of design services using the latest knowledge offered by digital technologies, sustainable practices, and networked processes. Their strong interest in art, drove them to a successful collaboration with the talented artist, Gerada on a first project/competition they won in San Antonio Texas. This dynamic creates an active exciting synergy between Art and Architecture."