The latest street art news, artist interviews, gallery exhibitions and photos from the Barcelona urban art scene.
Street Art Barcelona is a collaborative platform created to support & promote the Barcelona art scene.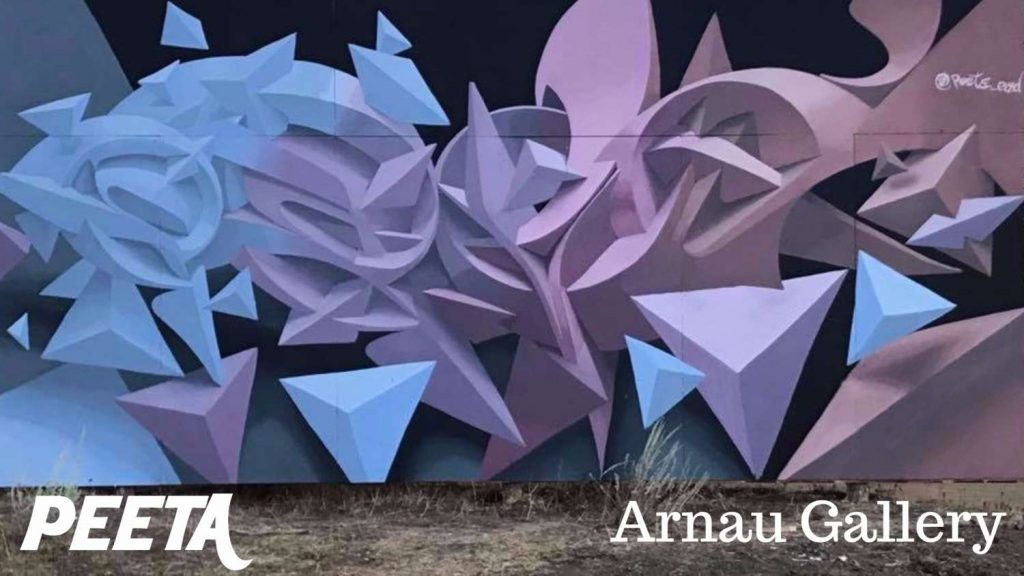 ES
Cuenta atrás para una nueva intervención en la Arnau Gallery. Seguimos explorando el mundo del arte urbano con una sesión dedicada una de sus ramas más técnicas: el graffiti 3D. Y lo hacemos invitando a todo un referente mundial en la materia: el artista italiano Peeta. Originario de Venecia, Peeta se inició en el ámbito del graffiti en 1993 y con el tiempo fue evolucionando sus letras hacia el 3D en una búsqueda artística que a su vez constituía una reflexión sobre su propia personalidad. Maestro del spray, diseñador y escultor, su trabajo se ha podido ver en numerosas exposiciones y murales de gran formato del circuito internacional. Es un honor que sea el artista protagonista de la edición de septiembre en Arnau Gallery.
Un evento organizado por Street Art Barcelona y Difusor, patrocinado por Montana Colors
www.peeta.net
www.instagram.com/peeta_ead
www.streetartbcn.com
www.difusor.org
www.montanacolors.com
EN
This month we continue exploring the world of urban art with a session dedicated to one of its most technical branches: the 3D graffiti. We will do it by inviting a worldwide reference in this field: the Italian artist Peeta. Originally from Venice, Peeta began graffiti in 1993 and over time made his technique evolve towards 3D in an artistic search which turned into a reflection on his own personality. Master of the spray, designer and sculptor, his work has been seen in numerous exhibitions and large format murals on the international circuit. It is an honor to welcome him for the September edition of the Arnau Gallery. 
Posted in
Agenda
,
Blog
and tagged
arnau gallery
,
art
,
Barcelona
,
exhibition
,
exposicion
,
graffiti
,
montana
,
muralismo
,
murals
,
peeta
,
street art
,
streetart
,
streetartbcn
,
Urban Art
.
Egas & Deolinda
Nuevo/New mural by Mohamed Lghacham
Estarreja (Portugal)
2017
ES
El mural esta basado en una fotografia del doctor Egas Moniz y de su ayudante Deolinda en el hospital Santa Marta (Lisboa) durante los años 30. Egas Moniz fue un psiquiatra y neurocirujano portugués. Nació en Estarreja, el 29 de noviembre de 1874 y falleció en Lisboa el 13 de diciembre de 1955. Fue el inventor de la lobotomía y de la angiografía. En 1949, Moniz recibió el Premio Nobel de Fisiología y Medicina.
EN
The mural is based on a photograph of Dr. Egas Moniz and his assistant Deolinda at Santa Marta Hospital (Lisbon) during the 1930s. Egas Moniz was a Portuguese psychiatrist and neurosurgeon. He was born in Estarreja, on November 29, 1874 and died in Lisbon on December 13, 1955. He was the inventor of lobotomy and angiography. In 1949, Moniz received the Nobel Prize in Physiology and Medicine.
Photos by Sarah Pinheiro
Posted in
Featured Artists
,
Library
,
Mohamed Lghacham
and tagged
art
,
Barcelona
,
Egas & Deolinda
,
Estarreja
,
graffiti
,
Mohamed Lghacham
,
montana
,
montana gallery barcelona
,
mural
,
muralismo
,
murals
,
portugal
,
street art
,
street art barcelona
,
street art bcn
,
streetart
,
streetartbcn
,
subagora
,
Urban Art
.