The latest street art news, artist interviews, gallery exhibitions and photos from the Barcelona urban art scene.
Street Art Barcelona is a collaborative platform created to support & promote the Barcelona art scene.
Sixe Paredes – Nueva exposición CÍRCULO SAGRADO en Barcelona
Sixe Paredes vuelve a exponer en Barcelona 9 años después, su nueva muestra se llama "Círculo Sagrado". Se podrán ver sus pinturas y tapices hasta el 10 de septiembre en la galería RocioSantaCruz.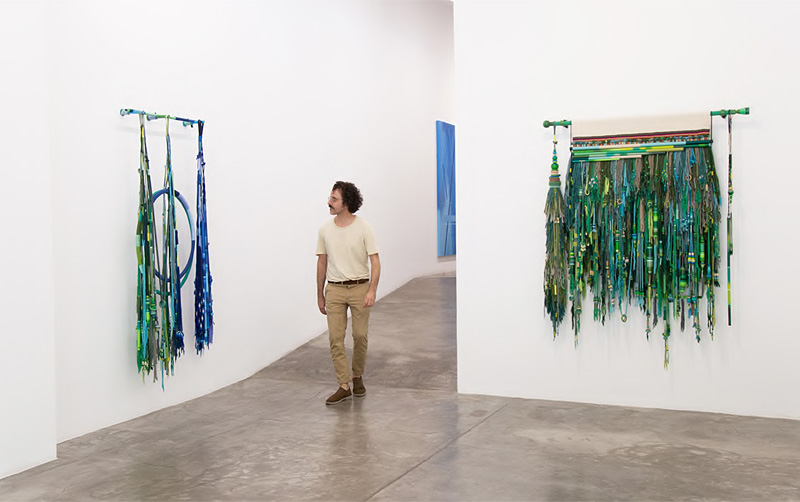 Desde finales de los años 80, Sixe Paredes desarrolló su práctica artística pintando en la calle, sobre los muros de Barcelona. Es a partir de la década siguiente que comienza su trabajo de estudio, creando sus personajes sobre lienzo y escultura. Sus primeros lienzos datan de 1998.
Esta transición del exterior al espacio expositivo se produce con gran éxito y sin haber dejado nunca de lado la vitalidad de las calles y los exteriores.
En el año 2008 Sixe Paredes, fue uno de los seis artistas invitados por la Tate Modern de Londres para pintar su fachada principal, por primera vez. Desde entonces, se han sucedido con éxito sus exposiciones internacionales en Paris, Pequín, Bruselas, México, Londres, Madrid, Montreal.
Desde el año 2009, Sixe Paredes pasa largos períodos de tiempo en Perú para conectar y profundizar en su conocimiento del arte y la cultura peruana y andina. Y lo consigue colaborando con comunidades creativas de la zona, aprendiendo las tradiciones y técnicas locales de ceramistas, artesanos textiles, diseñadores chicha y músicos.

La exposición se articula a partir de diferentes estilos, que van desde la Abstracción Pictórica más pura, con la que hace un guiño con difuminados y golpes líquidos que se escurren, hasta sus orígenes en la pintura en la calle.
Simultáneamente, dialoga con otros lenguajes en los que la forma se hace y se deshace, acompañando lienzos con piezas hechas con ensamblajes de varios materiales: lanas y cuerdas, cuentas y barras de maderas pintadas. Y llega hasta la trasmutación en el uso de los mismos elementos simbólicos, que explora con otros soportes artísticos, como el videoarte o la utilización de textiles urdidos a mano, que siguen tradiciones ancestrales de origen mesoamericano, fruto de su experiencia artística en Perú.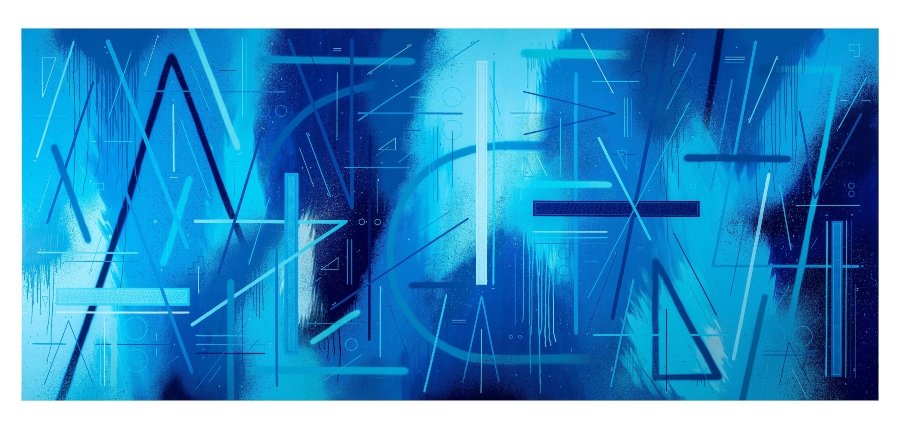 Esta exposición refleja, a su vez, la transformación que se ha ido produciendo en el lenguaje artístico de Sixe Paredes, así como los diferentes soportes que han ido adoptando sus trabajos. El artista trabaja la alteración de sus elementos compositivos y, en último término, la disolución de la oposición figura-fondo hacia una total abstracción, no solo la de un motivo pictórico, sino de la función pictórica en sí. De un plano bidimensional como es el lienzo, pasa a otros soportes tridimensionales como el ensamblaje textil.
En esta serie de trabajos traslada la idea pictórica a lo tridimensional, realiza una transmutación con materiales diversos, lana, cuerdas, abalorios y piezas de madera pintadas por el propio artista, tejidos a mano por él, en una superposición de elementos con solución de continuidad que podríamos denominar Pintura Expandida.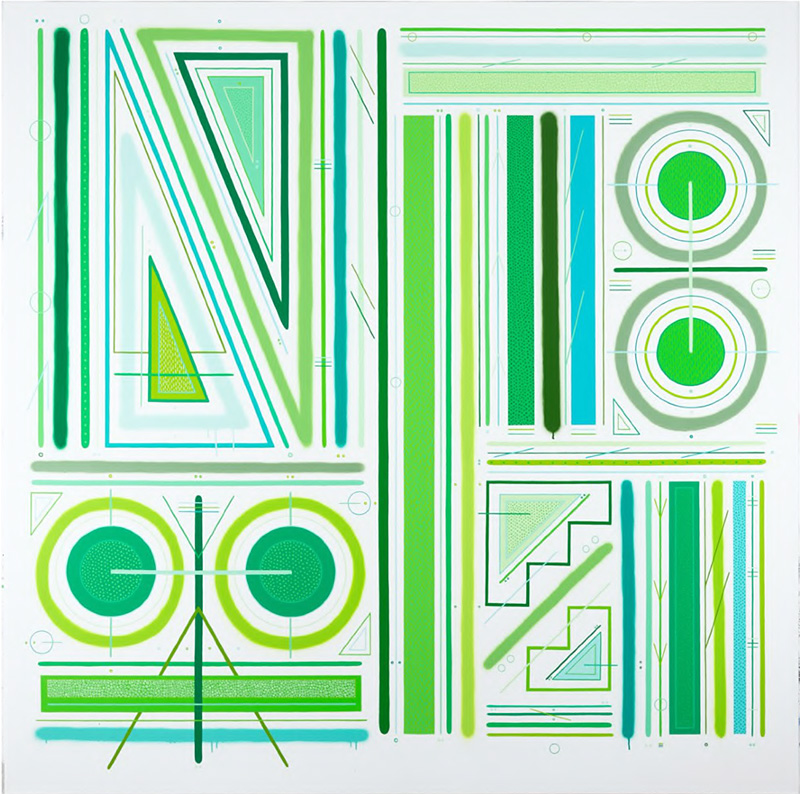 Texto extraído de la nota de prensa
Sixe Paredes – Círculo Sagrado
Hasta el 10 de septiembre 2020
Galería RocioSantaCruz
GranVia de les Corts Catalanes 627. Barcelona
Posted in
Agenda
,
Blog
,
Sixe
and tagged
art
,
Barcelona
,
Círculo Sagrado
,
exhibition
,
exposicion
,
galería
,
galería RocioSantaCruz
,
graffiti
,
mural
,
muralismo
,
murals
,
RocioSantaCruz
,
sixe
,
sixe paredes
,
street art
,
street art barcelona
,
street art bcn
,
streetart
,
streetartbcn
,
Urban Art
.
Mina Hamada, Miss Van & Ru8icon – AvantGarde Tudela 2020
Ese año el festival Avant Garde tudela nos ha hecho una buena sorpresa con un cartel potente que incluye Miss Van (Francia), Mina Hamada (Japon) y Rubicon (EUA), comisiariado por Jorge Rodriguez-Gerada. Los tres artistas, originarios de tres continentes diferentes pero todos establecidos en Barcelona desde varios años, se reunieron durante una semana en el pueblo de Tudela al norte de España. De esa estancia salieron tres murales con estilos bien distinctos pero todos dando ese buen rollo que necesitamos después de un periodo importante de reclusión.. Gracias a ellos por eso!
Fotos by Fernando Alcalá Losa
Posted in
Blog
,
Mina Hamada
,
Miss Van
,
Rubicon
and tagged
art
,
AvantGarde Tudela
,
Barcelona
,
graffiti
,
mina hamada
,
Miss van
,
montana
,
montana gallery barcelona
,
mural
,
muralismo
,
murals
,
open walls
,
rubicon
,
street art
,
street art barcelona
,
street art bcn
,
streetart
,
streetartbcn
,
Urban Art
.